Housebuilder Bovis says it will have fixed the problems with its faulty homes by the end of 2017.
In it's half-year results statement the firm said it had identified the issues and they were "all very fixable".
Some Bovis customers had complained about homes being sold unfinished, and had reported plumbing and electrical faults in new properties.
The firm, which has already set aside more than £10m for the problem, saw profits fall 31% to £42.7m.
It said this was due to several issues, including fixing the faulty homes, as well as the costs of defending itself from two takeover bids this year.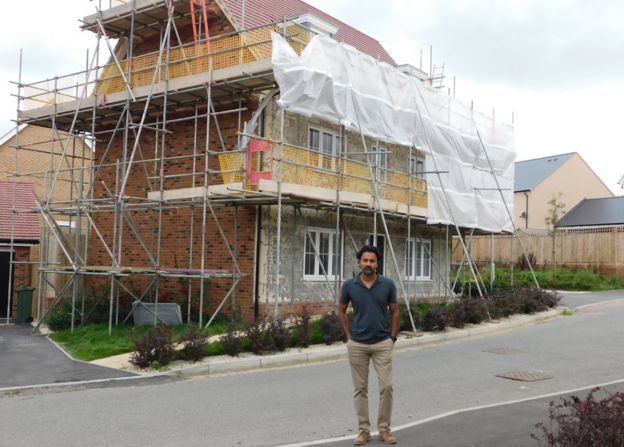 Case study: Pritesh Patel, Bovis home owner:
"I moved into Whitehouse Park, Milton Keynes, last November. It is a large development with more than 4,000 houses planned.
"All the ones built in my phase have defective brick work, something that is hard to correct once it has been done. The damp-proof course in several houses, including mine, is missing, something that should have been obvious. There are so many faults.
"The floor joists are of a minimum specification and so further apart, so the floor boards are like a trampoline.
"Some of my neighbours have had faults fixed, but they have had to move out for this to be done, some for up to six months. I have been promised remedial action but it hasn't happened, even though I have been in touch with Bovis daily.
"There is no programme of work, so the people who shout the loudest have the quickest results."

The company said in a statement: "We apologise to any customer who feels that they have not received the high standards in quality and service they deserve, but we are committed to resolving any outstanding issues for all of our buyers as soon as possible."
It added it had made "significant" changes to how it operates, and that a growing majority of our customers would now recommend us to family and friends".
Earlier this year, Bovis was a takeover target for two rivals – Galliford Try and Redrow. However, Bovis rejected both of their bids and eventually the two suitors abandoned their takeover attempts.
Announcing its results, Bovis said it was "strongly cash generative" and would be returning £180m to shareholders through special dividends over the next three years.
The average selling price of its homes rose 9% to £277,400. Bovis is aiming to complete about 4,000 properties a year, which is down from a previous target of between 5,000 and 6,000 completions.
The company is also restructuring some of its operations, such as planning, design and engineering, and is cutting 120 jobs.
Bovis shares rose 6% following the results.