London house prices have fallen for the first time in eight years, the Nationwide says, dropping 0.6% year-on-year in September.
Across the UK, annual price growth slowed to 2%, down from 2.1% in August.
That is the slowest rate of increase since June 2013, according to the Nationwide measure.
The building society said that London was the weakest performing region in the UK for the first time since 2005.
Previously prices have been fallen in the centre of London, but up to now buoyant prices in the suburbs have kept prices rising across the capital as a whole.
Robert Gardner, Nationwide's chief economist, said the slowdown in the capital was "particularly marked".
Jeremy Leaf, a London estate agent, said, "It shows the north-south divide in reverse, and confirms what we have been seeing on the ground – that the London market is struggling, mainly for affordability reasons."
Regions
For the UK as a whole, Mr Gardner said low mortgage rates and "healthy" rates of employment growth were supporting demand, "but this is being partly offset by pressure on household incomes, which appear to be weighing on confidence".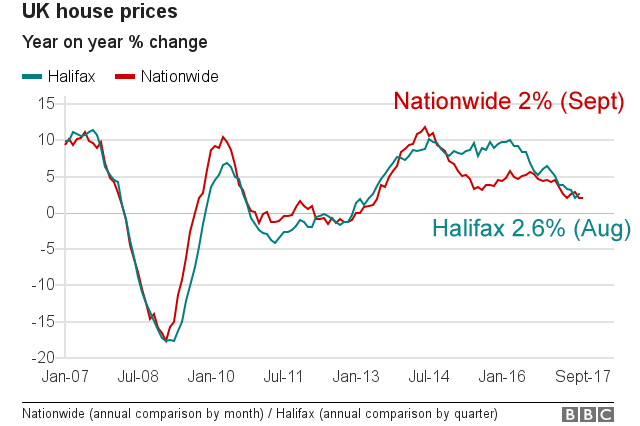 Outside London, prices are still rising in every area. The region with the steepest rise over the past year was the East Midlands, where prices rose by 5.1%.
The full breakdown is as follows:
East Midlands +5.1%
South West +4.8%
West Midlands +4.6%
Outer SE +3.9%
East Anglia +3.9%
North West +2.8%
Wales +2.6%
North +2.5%
N Ireland +2.4%
Outer Metropolitan +2.1%
Scotland +1.9%
Yorkshire and Humber +0.4%
London -0.6%
The Outer Metropolitan zone covers areas surrounding greater London and includes places such as St Albans, Luton and Bracknell.
The average annual price for a house or flat across the UK is now £210,116, the Nationwide said.