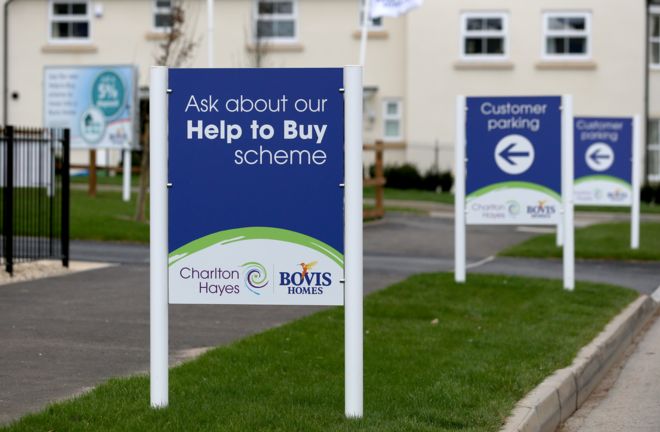 "The Help to Buy equity loan has achieved much higher take-up than we expected, helping 130,000 families so far with a deposit for their own home," Chancellor Philip Hammond has said.
The latest figures from the Department of Communities and Local Government show that from the launch of the scheme, in the second quarter of 2013, up to the end of June 2017, 134,558 properties had been bought.
The vast majority of these were purchased by first-time buyers – 108,620 of them, or just over 80%.
---
How does scheme work?
Under the Help to Buy equity loan scheme, people in England trying to buy a new-build property who have a 5% deposit can take out a 20% loan from the government (40% in London) and cover the rest with a mortgage.
It is limited to properties costing up to £600,000, and it must be the only property you own.
You don't have to pay any fees for the first five years. After that, you start having to pay fees, which increase in line with inflation.
After 25 years or when you sell the house, you have to repay the loan based not on the amount you borrowed but on how much it is currently worth.
So if the value of your home has doubled, then the amount you have to repay the government also doubles.
The chancellor will have been talking about only England because housing is a devolved issue.
There are similar schemes in Wales, Scotland and Northern Ireland, but the chancellor is not responsible for them.
---
What is the overall picture?
A high proportion of Help to Buy equity loans went to first-time buyers – but what sort of proportion of first-time buyers is that overall?
The housing charity Shelter has criticised the scheme, saying Help to Buy has "barely helped the first-time buyers it is targeted at".
UK Finance (which used to be the Council of Mortgage Lenders) says that overall for the period 9.6% of first-time buyers used a Help to Buy equity loan.
That's an average figure – in the most recent quarter for which we have figures, it was almost 15%.
And of course you need to bear in mind that the equity loans can be used to buy only new-build properties.
Earlier this year, analysis by BBC News found one in three new-build properties outside London – but just one in 10 in the capital – had been bought through Help to Buy.