The impact of a small rise in interest rates is likely to be modest for most UK households, according to mortgage lender Nationwide.
The Bank of England has been widely tipped to increase rates for the first time in a decade on Thursday.
If rates do go up from 0.25% to 0.5%, the effect will be smaller than in the past because more homeowners are on fixed mortgages, Nationwide said.
It comes as house prices rose by 0.2% in October, according to Nationwide.
The average price of a house in the UK rose by £284 to £211,085. Annual house price growth edged up to 2.5% from 2.3% in September.
Nationwide chief economist Robert Gardner said the share of mortgages on variable rates – and so likely to see higher payments if the Bank Rate is increased – has fallen to a record low of about 40%, down from a peak of 70% in 2001.
"Moreover, a 0.25% increase in rates is likely to have a modest impact on most borrowers who are on variable rates," Mr Gardner said.
He estimated such a rate rise would increase monthly payments by £15 to £665 for the average mortgage, or an extra £180 a year.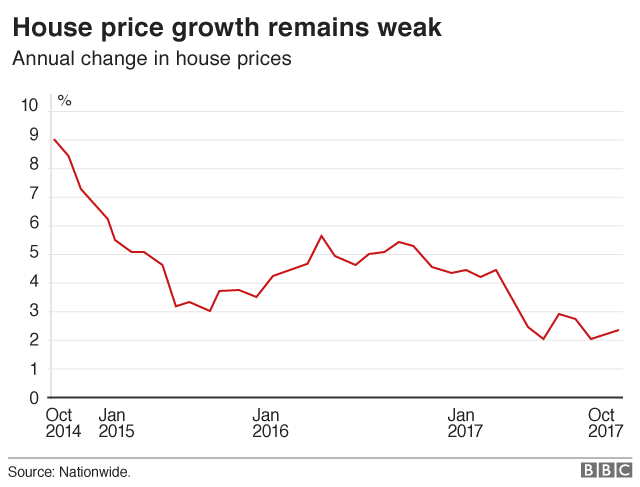 Howard Archer, chief economic adviser to the EY Item Club consultancy, said a rate rise could weigh on the housing market.
"Housing market activity remains under pressure from squeezed consumer purchasing power, fragile confidence and appreciable caution over engaging in major transactions," he said.
Brexit impact
In its latest update on the housing market, the Nationwide also said the UK's departure from the European Union could affect demand.
"With the ongoing uncertainty around Brexit and the rights of EU citizens once the UK leaves the EU, we may see a slowing in housing demand (and particularly rental demand) in the years ahead," Mr Gardner said.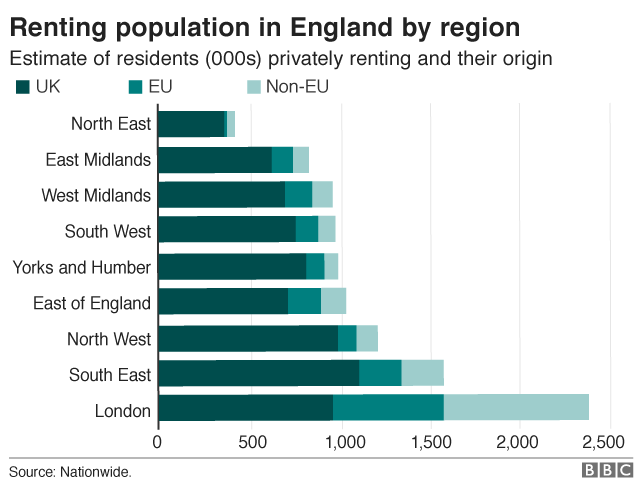 Population growth has fuelled housing demand in recent years, the building society said, with international migration accounting for almost two-thirds of the 11% increase in England's population rise between 2001 and 2015.
That has affected the number of residents privately renting properties. "Recent migrants are more likely to privately rent than live in social housing or their own home," said Mr Gardner.
The biggest impact has been in London. "There is a regional dynamic, with migrants accounting for a much higher proportion of the private renting population in London than elsewhere in England," he said.