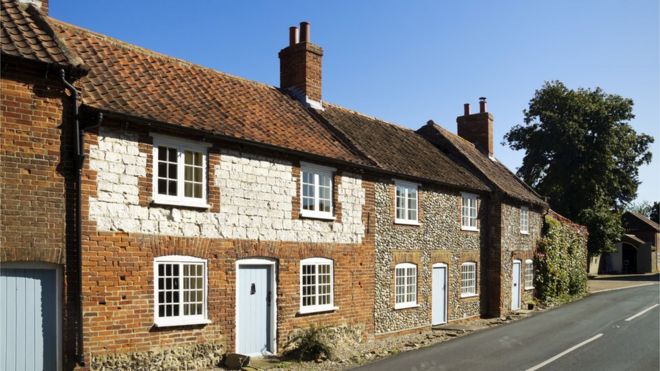 House prices are now falling in four areas of the country, according to the latest report from chartered surveyors.
The Royal Institution of Chartered Surveyors (RICS) has said that prices are declining in London, the South East, East Anglia and north-east England.
However, other parts of the UK are seeing an improvement in activity.
Scotland, Wales, north-west England and Northern Ireland have continued to see rising prices, according to RICS.
At the same time the UK's largest estate agent reported a 7% fall in revenues in the three months to the end of September.
Shares in Countrywide fell by 6%.
The RICS report on the housing market is gloomy overall, citing fewer buyers and sellers, as well as falling sales.
Across the country as a whole, it said prices were flat, with just 1% more surveyors reporting rises in October than those reporting falls.
The survey appears to contrast with data from the Halifax, which said earlier this week that house price growth had risen to 4.5% in the year to October.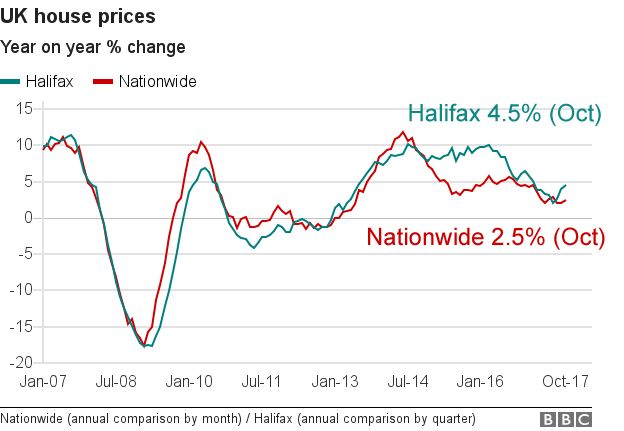 'Bad news'
The surveyors thought the short-term outlook for prices was even more negative.
When asked what they thought would happen to house prices over the next three months, a majority reported falling values in London, the South East, East Anglia, the South West, the North East and the West Midlands.
RICS said that last week's rise in base rates was one factor behind the "stuttering" market.
Around four million mortgage holders will see a rise in interest rates as a result of the Bank of England's decision to increase rates by 0.25% to 0.5%.
"The combination of the increased cost of moving, a lack of fresh stock coming to the market, uncertainly over the political climate and now an interest rate hike appears to be taking its toll on activity in the housing market," said Simon Rubinsohn, RICS' chief economist.
"A stagnant second-hand market is bad news for the wider economy, not just in terms of spending, but also because it restricts mobility."
Countrywide, which owns 600 branches of estate agents, said its full year results were likely to be at the lower end of market expectations.
"The market for housing transactions remains challenging," said chief executive Alison Platt.