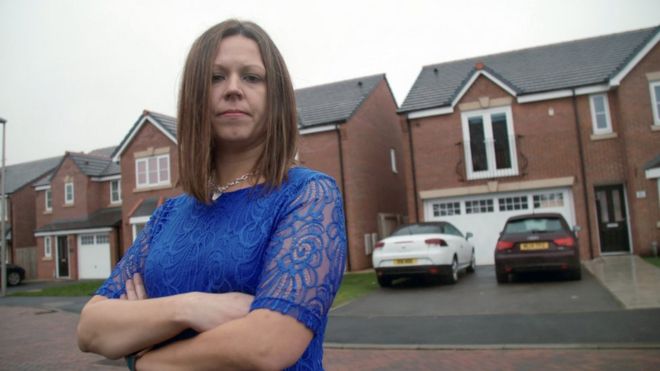 Katie Kendrick was among those whose freehold was sold on without her knowledge.
People buying new-build houses in England will no longer be obliged to enter leasehold agreements, the government has announced.
Anyone buying a flat – or a house – on a lease of longer than 21 years will also not have to pay any ground rent.
Critics described the new measures as "incredibly weak".
The announcement follows revelations that thousands of people buying new homes have been subject to what the government called "feudal practices".
In some instances ground rents have been doubling every 10 years.
In other cases homeowners found their freehold had been sold to investment companies, and they were being told they would have to pay tens of thousands of pounds to buy it.
Earlier this year, Kate Kendrick told the BBC that buying her freehold would have cost her £13,300, after the developers, Bellway, sold it on without her knowledge.
The new rules will not cover houses that are in multiple ownership.
The announcement follows a government consultation, in which thousands of home-owners complained about leasehold practices.
"It's unacceptable for home buyers to be exploited through unnecessary leaseholds, unjustifiable charges and onerous ground rent terms," said Communities Secretary Sajid Javid.
"It's clear from the overwhelming response from the public that real action is needed to end these feudal practices."

However, the government will have to legislate for the changes, so it will take some time before they become law.
It is also unclear what relief there will be for the 1.4 million households across England that already own their houses under leasehold agreements.
Campaigners said the new measures would lead to a two-tier market.
Louie Burns, the managing director of Leasehold Solutions, described the proposed new rules as "incredibly weak".
"While the offer to abolish ground rents for new leases seems an attractive offer, it actually leaves existing leaseholders in a worse position because it will create a two-tier market, making new build properties with zero ground rents more attractive, while existing leaseholders will have less chance to sell their homes, as ground rents will still apply to their properties."
The government said it would work with the Law Commission to support existing leaseholders, to make it easier for them to extend their leases, and help them with redress procedures.
Shares in house developers like Persimmon, Taylor Wimpey and Bellway fell as a result.
McCarthy and Stone, which builds and sells retirement apartments on leasehold deals, saw its shares fall by more than 8%. The company said the new measures would result in fewer houses being built.
---
What is a leasehold?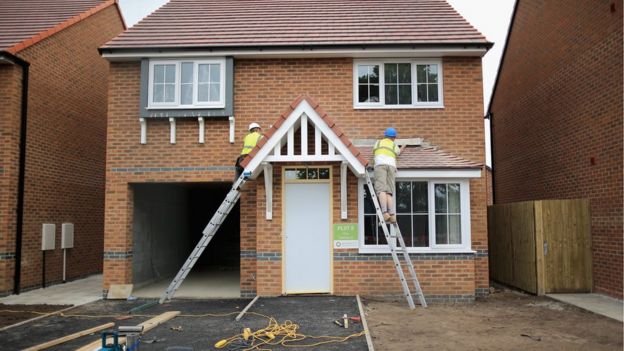 Someone who owns a property outright, including the land it is built on, is a freeholder.
Most houses are freehold but some might be leasehold – usually through shared-ownership schemes.
With a leasehold, the person owns the property for the length of their lease agreement with the freeholder.
Leaseholders have to pay their freeholders ground rent and other fees in order to make changes to their homes.
When the lease ends, ownership returns to the freeholder unless the person can extend the lease.
Some wish to buy their freeholds to save themselves these costs.