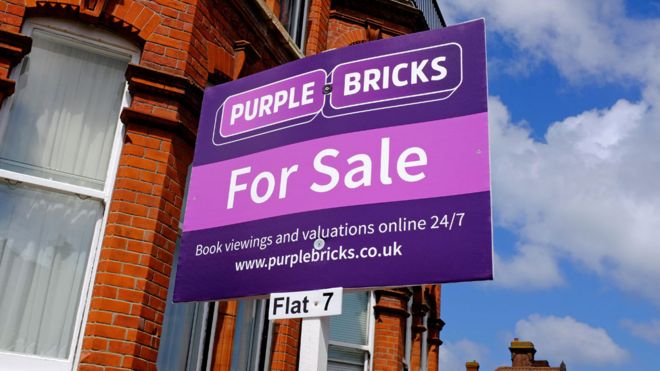 Online estate agency Purplebricks has defended its business after critical comments by analysts.
On Thursday, stockbrokers Jefferies issued a research note questioning its claim it sold more than three quarters of homes listed with it.
Jefferies said Purplebricks' sales success rate was just over 51% and near the middle of the pack of its study of 7,000 agents.
But Purplebricks said it sold 78% of homes listed.
'Coin toss'
Purplebricks charges a flat fee rather than a percentage of the sale price and uses a mix of online and local agents.
The company's latest results, published in December, reported that its average revenue per UK customer was £1,138.
Jefferies called selling with Purplebricks a "£1,000 coin toss", saying that, unlike traditional agents, its customers had to pay the fee regardless of whether the property sold.
The brokers said the business model had not been sufficiently tested and that its shares were priced "for perfection".
The note from Jefferies said: "Purplebricks does not disclose how many homes it sells. Our research sample found that it had sold 51.6% of the homes listed in November 2016 within 10 months, a similar success rate to the overall market, but below the company's claim of 88% [made in an interview on the BBC's Moneybox programme].
"Our concern is that the group has expanded quickly across three continents before the model has been proven and therefore that the shares are priced for perfection. Our research is not able to replicate the views on selling success expressed by the company."
Share hit
In a statement, Purplebricks said: "Purplebricks firmly refutes the criticism in the research note of its revenue recognition policy and stands behind both the fully audited results and the accounting policy itself."
It added that the estimated completion rate in the Jefferies research note was based on one month's data and did not cover deals that have yet to be included on the Land Registry.
The company said its most recently published sales conversion rate was 78%, which it said "more accurately reflects its sales performance".
Shares in Purplebricks fell 7% on Thursday, and dropped a further 3% on Friday to about 440p. However, this is still well above the valuation given in the Jefferies note, which said the true value of the shares was between 94-158p.
Purplebricks, which operates in Australia as well as the UK and is moving into the US, has come in for criticism in the past. The Advertising Standards Authority has upheld a number of complaints about its marketing.