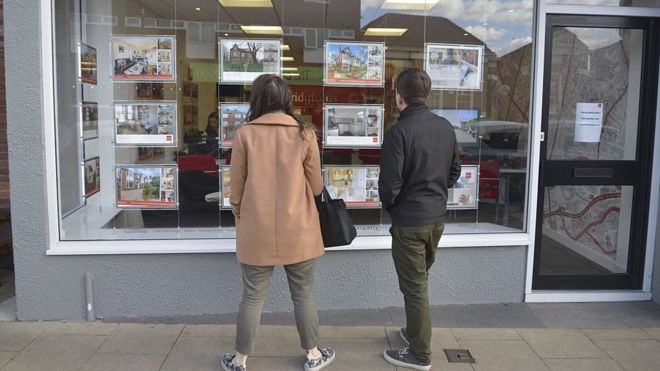 More than 7,000 UK High Street estate agents are showing signs of financial distress as they face fewer sales and online competition, a study has found.
The report – from accountancy firm Moore Stephens – suggests that some 27% of agents are struggling to survive.
One of the main reasons is a long-term decline in property sales.
Between 2014 and 2017 the number of transactions in London dropped by 20%, while sales across the UK have fallen by 1% in the past year.
The number of estate agents in difficulty has risen sharply from last year, when just under 5,000 were found to be in trouble.
As well as a drop-off in the number of house sales, Moore Stephens said the growth of online agents such as Purplebricks and Emoov had been a factor.
"Insolvencies of High Street estate agents are increasing as online competitors continue to chip away at their sales and undermine commission rates," said Chris Marsden, restructuring partner at Moore Stephens.
"Some areas in the UK appear to have an excess capacity of estate agents, which could mean there is not enough business to spread around as property transactions stagnate."
He also said that plans to ban letting fees to tenants – expected to come in early next year – could dent profits even more.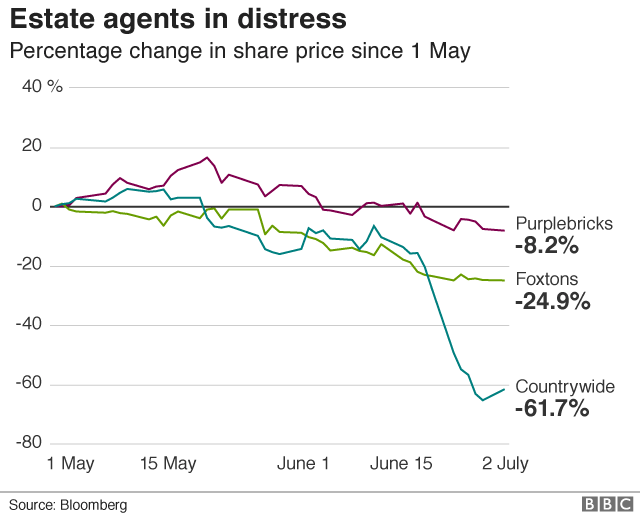 Since 1 May, the UK's largest chain of estate agents, Countrywide, has seen its share price fall by more than 60%. It has issued two profit warnings in the past 12 months.
Rival chain Foxtons has also had problems, reporting a 15% decline in revenues during the first quarter of 2018, and its share price has fallen by nearly 25% since the start of May.
In comparison, shares in Purplebricks, the online agent that charges a flat fee for agreeing to sell a home – rather than a commission – have fallen by 8.2%
On Monday, Purplebricks announced further expansion in North America with the purchase of an online estate agent in Canada. Purplebricks already has operations in Australia and the US.
House price growth has been moderating since March 2016, when it peaked at an annual rate of 8.3%.
In the year to April 2018, that figure had more than halved to 3.9%, according to figures from the Office for National Statistics.