Rents could rise 15% by 2023 as the supply of new rental properties dries up, according to a survey by the Royal Institution of Chartered Surveyors (RICS).
It said small scale landlords are pulling out of the market.
It blamed tax changes brought in last year which have made buy-to-let investments less profitable.
RICS said it was time that the government looked again at the way the private rented sector was regulated.
It said its members have seen the supply of new rental property falling consistently for two years.
Meanwhile, the majority of its members are seeing steady increases in the number of people looking to rent, although the numbers are levelling off.
Simon Rubinsohn, RICS chief economist, said: "The risk… is that a reduced pipeline of supply will gradually feed through into higher rents."
A Treasury spokesperson said the reasoning behind the tax changes was to make more houses available to homebuyers.
"We want to realise the dream of home ownership for a new generation, and that's why we introduced a cut to stamp duty for first time buyers, and have built 1.1m additional homes since 2010," the spokesperson said.
"Staggering"
But Labour's shadow housing secretary said the government was responsible for "eight years of failure".
John Healey said: "It's staggering that Conservative ministers still have no answer to the increasing pressures private renters face.
"Labour in government will fix this broken market with bold new rights for renters including an end to no fault evictions and controls on rents."
Changes to the buy-to-let tax regime brought in last year mean that mortgage tax relief for landlords will be restricted to the basic rate of income tax by 2020.
RICS said the full impact of the changes and increases in stamp duty have yet to be felt.
Abdul Choudhury, RICS policy manager, said: "Withdrawing tax breaks that small landlords relied on, placing an extra 3% on second home stamp duty, and failing to stimulate the corporate build-to-rent market, has understandably [had an impact on] supply.
"[The] government must urgently look again at the private rented sector as a whole, including ways to encourage good landlords.
"Ultimately, [the] government must consider the impact of its policies, and if the wish is to move away from the private rented sector, it must provide a suitable alternative."
Sharpest growth
RICS said its survey suggested that East Anglia and the South West of England were likely to see the sharpest growth in rents from now until 2023.
James Farrance, director of residential lettings at Braxton estate agents in Maidenhead, said: "Stock levels [are] declining as some landlords are reducing their holdings due to [the] tax and cost burden from the government increasing. [Buy-to-let] investors are also thin on the ground, put-off by the crippling levels of stamp duty."
Simon Cooper, managing partner of the Exeter office of Stags estate agents, said: "[There is] incredibly strong tenant demand and a definite lack of instructions to satisfy demand. I can see rents increasing as a result."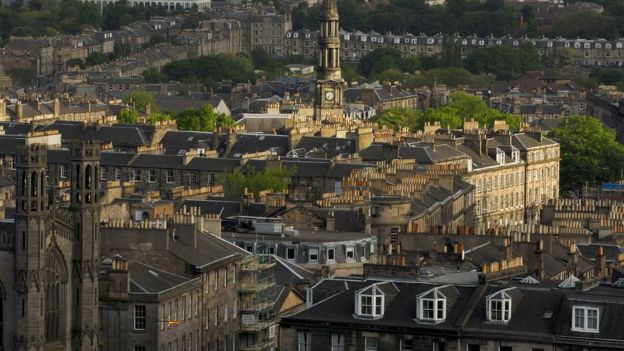 RICS reported little change in house prices, with just a small majority of its members saying that they were rising.
Many of those were in the northern regions of England and in Scotland.
Most of its members in London reported lower prices.
John Brown, group managing director at chartered surveyors John Brown and Company in Edinburgh, said: "Edinburgh and East of Scotland is experiencing a mini boom [for properties] below £500,000.
"The market is very positive, explained by lack of stock and continued interest in the city from other areas. [The] top end is very short of good quality homes."