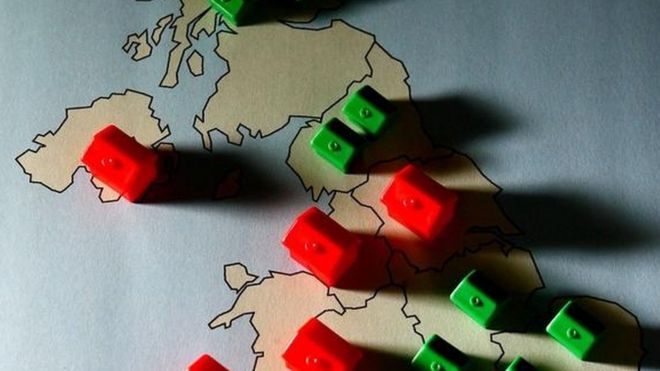 The North-South divide in house prices will narrow in the next five years as property values in northern England rise by a fifth, a report suggests.
Estate agent Savills has predicted that British house prices will rise in line with average incomes from 2019 to 2024.
But house price growth will range from 21.6% in the North West of England to 4.5% in London.
Scotland and Wales will see property values rise by nearly 20% over the same period, Savills believes.
Lucian Cook, head of residential research at Savills, said that house prices in these areas were recovering more slowly from the financial crisis than London.
"Brexit angst is a major factor for market sentiment right now, particularly in London. But it is the legacy of the global financial crisis – mortgage regulation in particular – combined with gradually rising interest rates that will really shape the market over the longer term," he said
Five-year forecasts must be treated with caution, particularly in the housing market, owing to the variety of events that can affect the UK economy and the sector, down to a local level.
The past five years have seen relatively little activity in the housing market. On Thursday, the Nationwide Building Society said that many homeowners were choosing to stay put, leading to relatively few properties being placed on the market.
The predictions by Savills suggest that, across Britain, house prices will increase by 14.8% over the five years from 2019. That would add about £32,000 to the average property value, taking it to £248,086.
The slowest rise will be in London, where prices are still the highest and have increased by 72% over the past 10 years, according to Savills.
The South East and East of England will both see prices rise by 9.3%, it predicts. At the other end of the scale, there will be significant price rises in the North West of England, Yorkshire and the Humber (20.5%), the East Midlands, West Midlands and Wales (all 19.3%), Scotland (18.2%) and the North East of England (17.6%).
Cities such as Manchester and Birmingham "have the capacity to outperform their regions" while Wales may benefit from the abolition of the Severn Bridge tolls, Savills said.