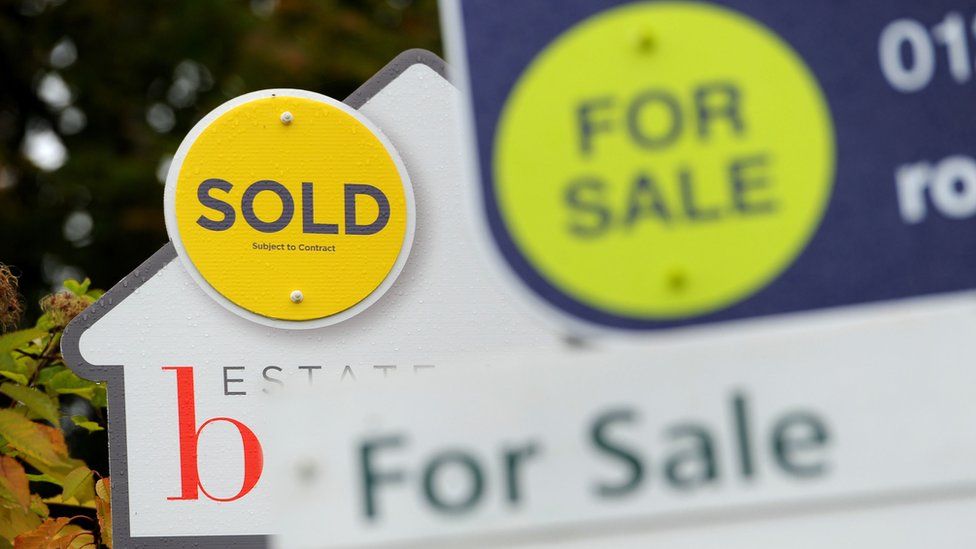 The recent uplift in UK house prices "could be running out of steam", the Halifax has said after it found that property values dropped last month.
The lender's latest survey showed prices fell 0.3% in January, the biggest monthly fall since April 2020.
However, prices still climbed 5.4% over the past year, leaving the average property worth £13,000 more than in January 2020.
Across the UK, average property values stood at £251,968 in January.
"How far and how deep any slowdown proves to be is a challenge to predict given the prevailing uncertainty created by the pandemic," said Halifax managing director Russell Galley.
"With swathes of the economy still shuttered, and joblessness continuing to edge higher, on the surface this points to slower market activity and downward price pressures in the near-term."
The stamp duty holiday in England introduced last July is due to end on 31 March, which has raised concerns that sales could reach a cliff edge.
Challenging conditions
"The slowdown we are now seeing in house price growth reflects the looming end to (the stamp duty holiday)," said Anna Clare Harper, chief executive of asset manager SPI Capital.
"Looking to the future, when assuming the temporary stamp duty reduction ends, we're likely to see a slowdown in house price rises."
She said that challenging economic conditions make potential home buyers less willing and able to buy.
Andrew Montlake, managing director at mortgage broker Coreco, said: "The UK property market went supersonic after the introduction of the stamp duty holiday last summer and, with the deadline fast approaching, it has inevitably slowed down,
"In hard economic terms, and with the stamp duty holiday over in all but name, the property market is facing a huge amount of uncertainty."
Covid rethink
Nicky Stevenson, managing director at estate agent Fine & Country, said lockdown had played its part in keeping prices as high as they are because it reduced supply.
"The Budget is only around the corner now and, while it remains to be seen whether the chancellor will extend the stamp duty tax break, he has a big deficit and many other levers to pull that could affect the market in much more significant ways," she said.
Mr Montlake said that the Covid-19 pandemic triggered a massive rethink among homeowners and prospective homebuyers.
"The rules of the game have changed. Properties that were perfect a year ago are often no longer what people want as work and life priorities have been turned upside down."
Lucy Pendleton, of estate agent James Pendleton, said it was sellers, not buyers, who were a little quieter at the moment.
"A lot of people with children have decided against listing their property for sale while they're home-schooling and their home looks like a bomb has hit it."
But she said there were still plenty of first-time buyers looking and "we always see a rush of activity after spring has sprung when people's gardens start to look better".