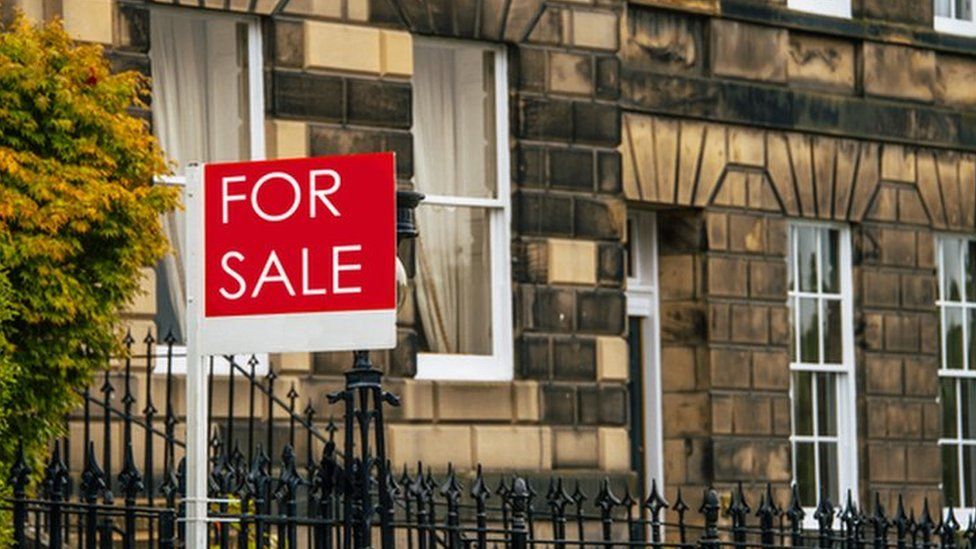 The "mad rush" to buy properties to take advantage of stamp duty holidays waned in April, official figures suggest.
Transactions fell by 36% compared with the record level of UK home sales in March, according to HM Revenue and Customs (HMRC).
An extension to the deadline for stamp duty relief into the summer is likely to have been behind the fall.
However, analysts expect interest and prices to remain high.
A total of 111,260 properties were sold in the UK in April, down from 173,410 the previous month, the HMRC figures show.
This remains nearly 200% higher than the same month a year ago, when the housing market was effectively closed in the first national Covid lockdown.
One of the ways in which ministers sought to stimulate the market and, in turn the UK economy, amid pandemic restrictions was through stamp duty relief.
This was expected to end across the whole of the UK at the end of March, prompting a surge in sales to beat the planned cut-off date, but only Scotland stuck to that deadline. England, Northern Ireland and Wales have extended the relief for a few months longer.
Sam Mitchell, chief executive of online estate agent Strike, said: "After the mad rush in March to complete and exchange ahead of the original stamp duty holiday deadline, property transactions eased in April as buyers and sellers were offered a little bit of breathing space thanks to the extension.
"However, with not long to go until the June deadline [of stamp duty relief], the countdown is officially back on and pressure is mounting."
He echoed other analysts in pointing out that, with the number of homes on the market failing to match supply and the launch of low-deposit mortgages for first-time buyers, there was little chance of activity and prices plunging even after the tax relief was withdrawn.
The figures come on the same day that the UK's largest building society, the Nationwide, reported that its pre-tax profits in the year to April nearly doubled from £466m to £823m.