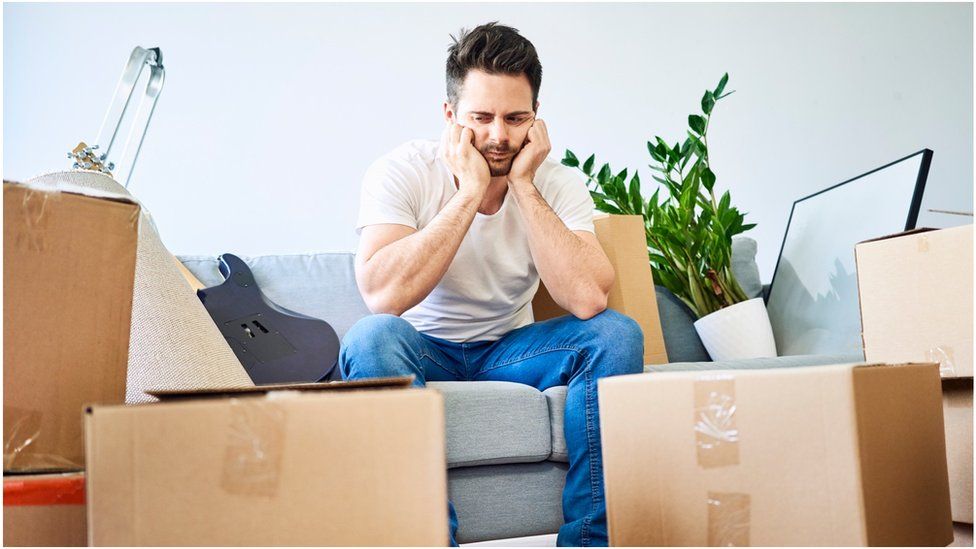 UK house prices are soaring. Official figures show they have been increasing at their fastest rate for more than a decade despite the country being gripped by a pandemic.
The UK's biggest building society, the Nationwide, has described the UK housing market as "bouyant".
Potential first-time buyers and movers may have more of a sinking feeling, as some watch the likelihood of owning move further out of reach.
This is what is happening, and why.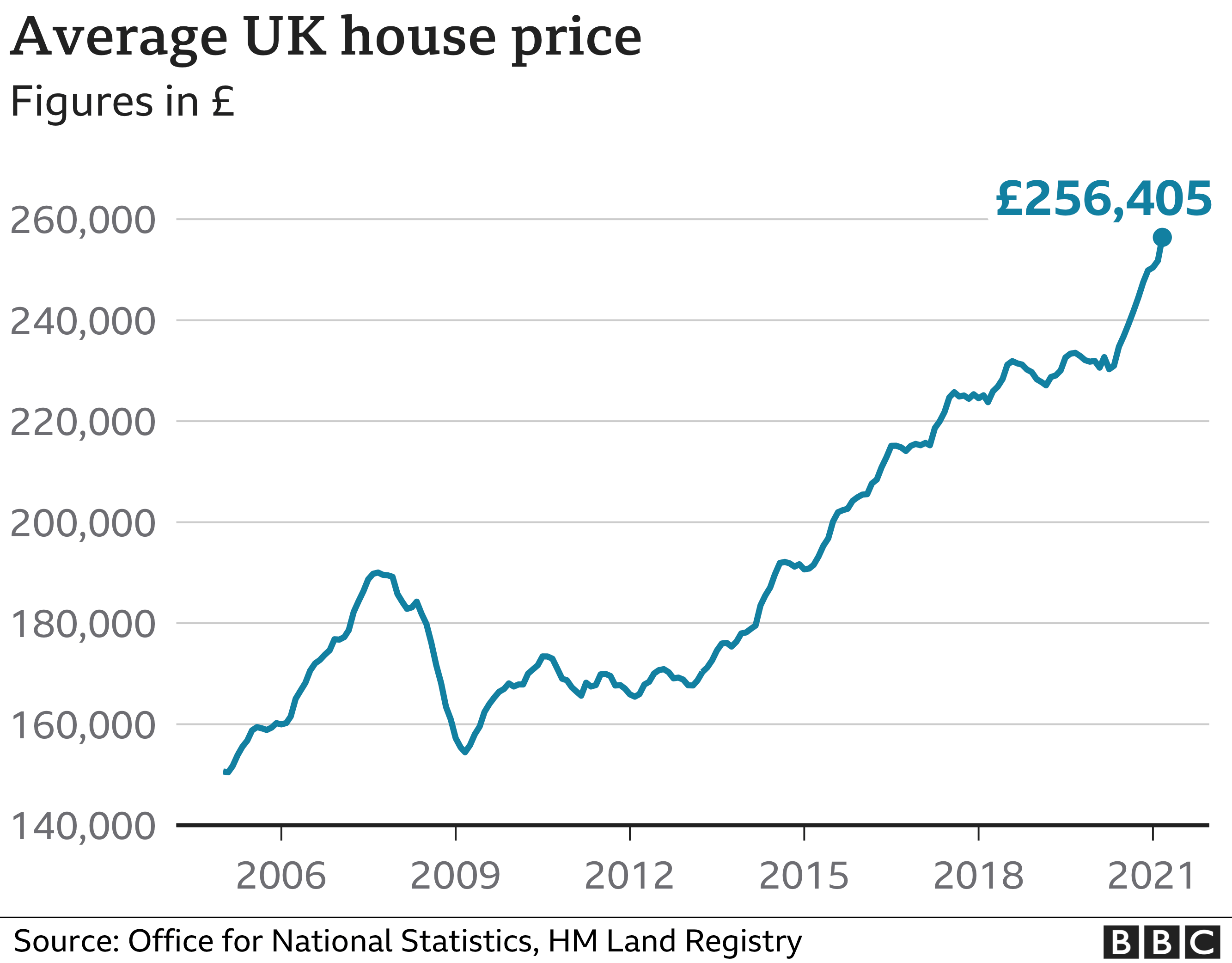 House prices in the UK have generally been going up since the financial crisis. The latest official, for March, show that trend speeding up.
Property values were 10.2% higher than a year earlier – the fastest annual rate of growth for 14 years.
This map from property portal Zoopla shows that, unlike recent booms, the biggest price rises have been outside of London and the South East of England.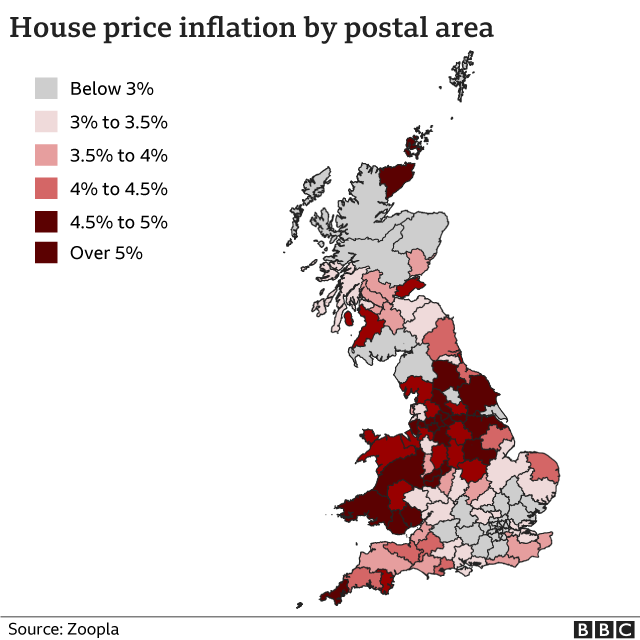 The steepest increases, shown in the darker shades, have been clustered around the central areas of the UK and Wales.
One notable boom area has been Cornwall which, according to property sales search site Rightmove, overtook London as the most popular search destination for property buyers.
Many buyers are engaged in a race for space, according to Nationwide. They want bigger homes with room to live and work, as well as a garden, and easy-to-reach coast or countryside.
The trouble is they are in short supply.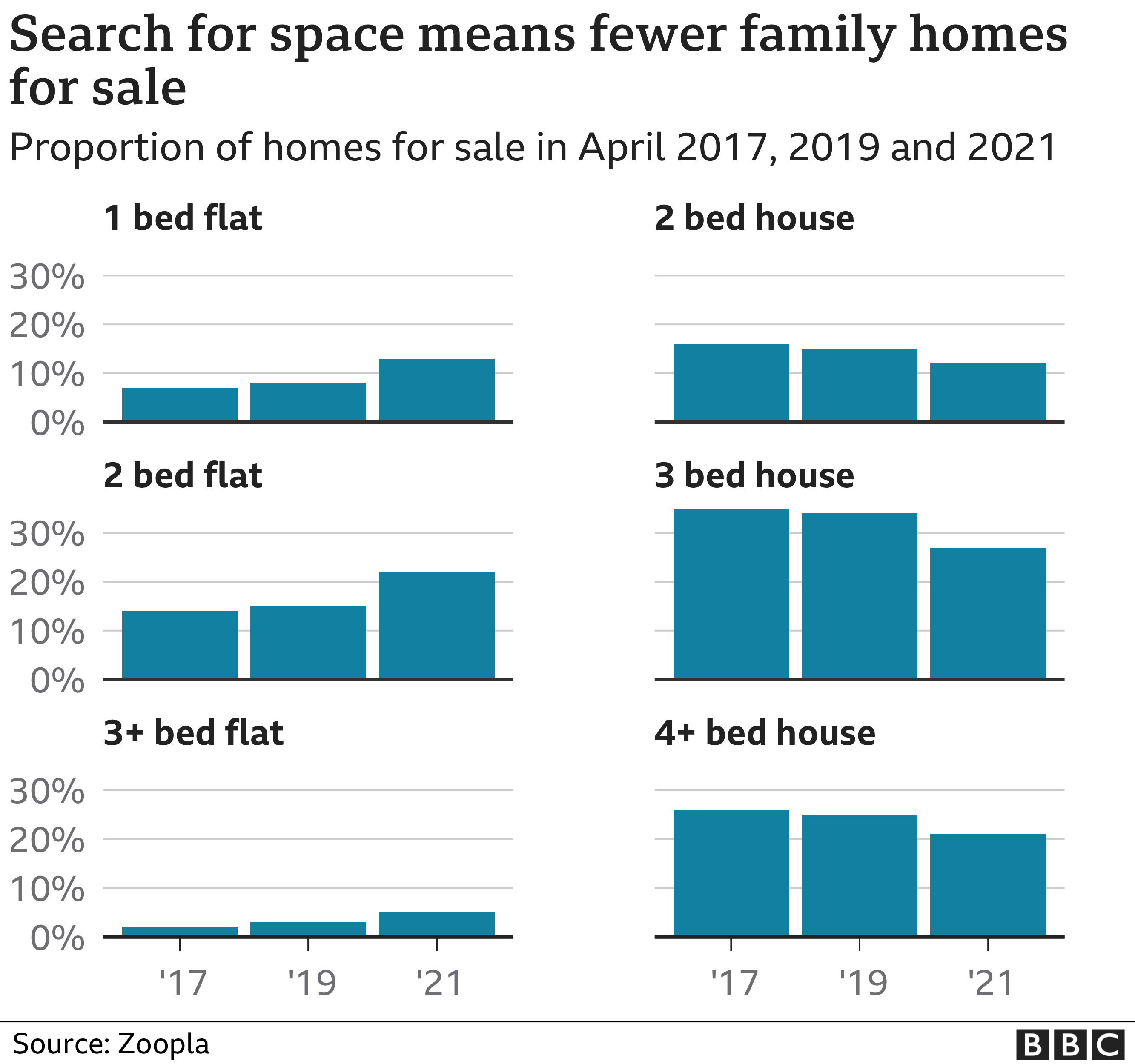 Family homes are more popular, partly because people have reassessed their priorities during Covid lockdowns.
That, and the cladding crisis, have made some city-centre flats less attractive to buyers.
However, prices of apartments are still rising – albeit at a slower rate than houses – and there are some signs of buyers taking the chance to make a move into lively cities as Covid restrictions ease.
All this means lots of homes are being sold, certainly compared with the start of the first national lockdown when the housing market was closed.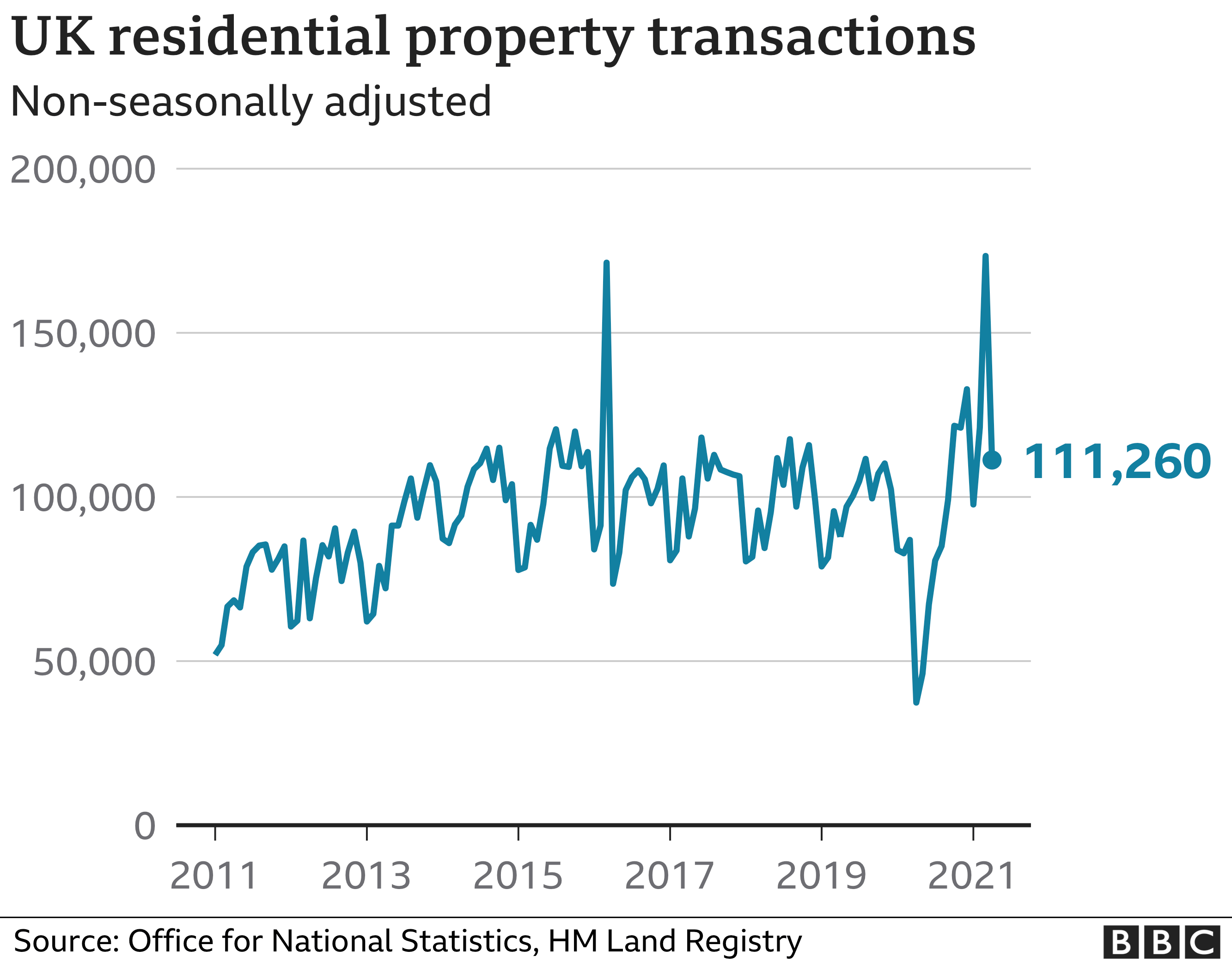 The big spike in March came as buyers and sellers rushed to complete deals ahead the stamp duty holiday expiring at the end of the month.
In the end, ministers extended the tax break into the summer. It can save people up to £15,000.
Any saving may well be eroded for buyers because the demand for homes is not being matched by supply.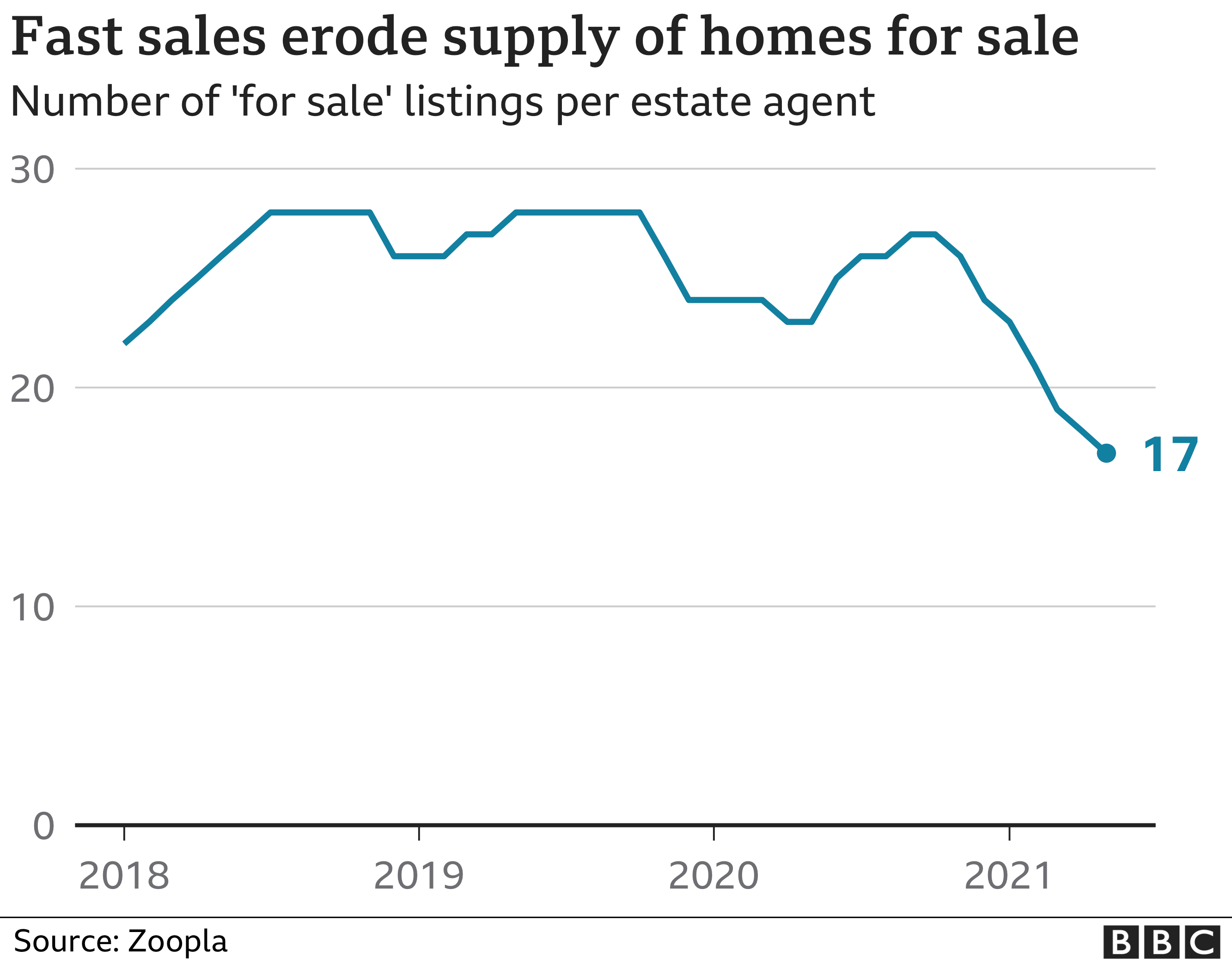 A lack of homes on the market, when demand from buyers is high, is inevitably pushing up prices.
The result are the kind of scenes in which buyers have queued overnight outside estate agents' doors, and buyers have been putting in offers for properties they have even viewed.
On top of that, buyers having to pay more are borrowing more. One broker says they are "maxing out" on what they can get from lenders.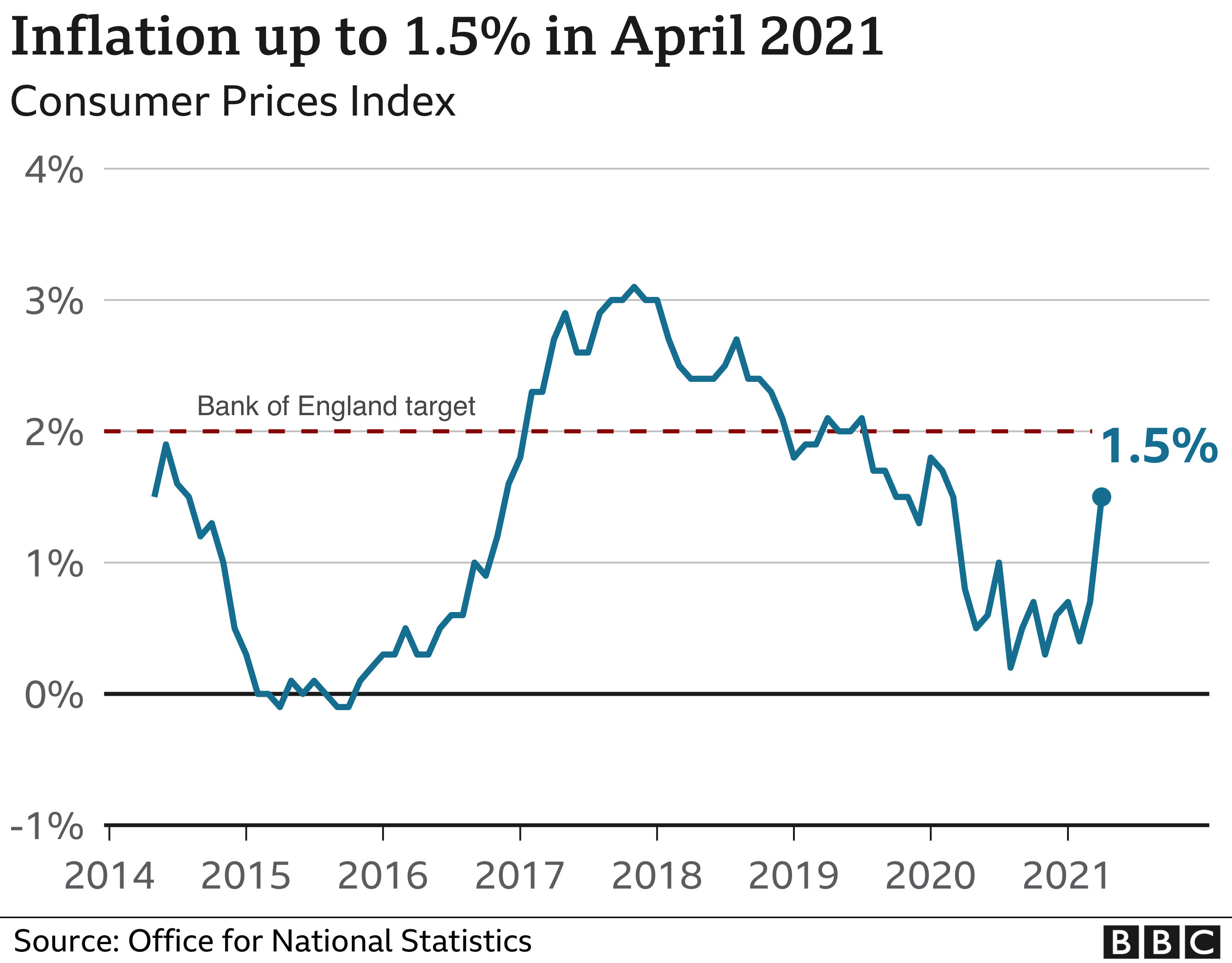 That might be affordable when borrowing rates are low.
The final chart shows that there are signs that the rising cost of living is picking up speed. The Bank of England may choose to control that by raising interest rates.
That would make mortgage borrowing more expensive, putting some new property buyers who borrowed to their limit in financial danger.
An income shock, such as the loss of their job, could make that situation a perilous one.