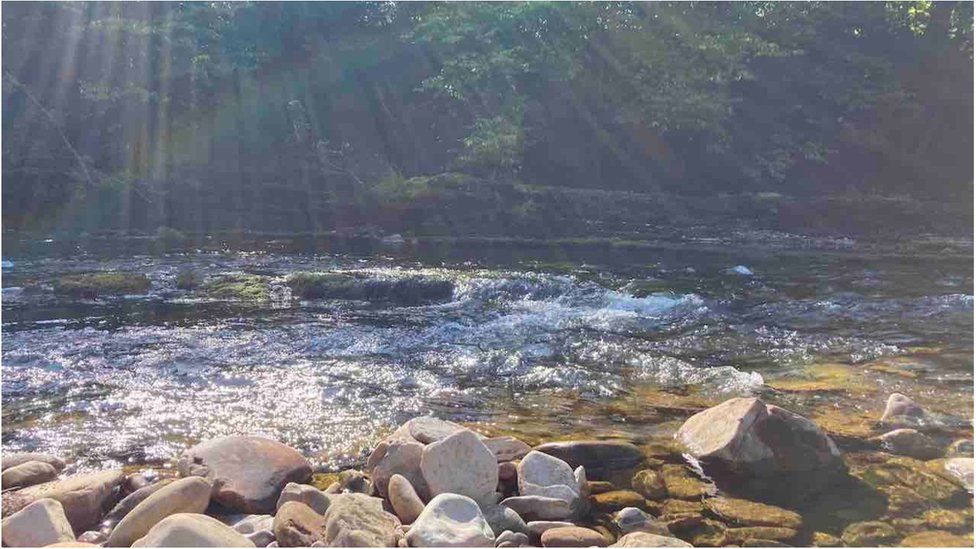 Another 10 people are still on the waiting list to see it, attracted by its views over a small waterfall and beck. Potential buyers are coming in with offers above the asking price. Competition is fierce.
The market has been like this for months, eager buyers are ringing the local estate agent's phone off the hook.
With far fewer properties to sell than would satisfy demand, prices have surged. It means some locals have been considering shelving their plans for a new home.
"We enjoy country life. We already live in one of the villages and would like to stay, but there is a lot of demand for village properties and we are increasingly finding ourselves priced out," say Jonathan and Sarah Ratcliffe, both aged in their 30s and charity and NHS workers respectively.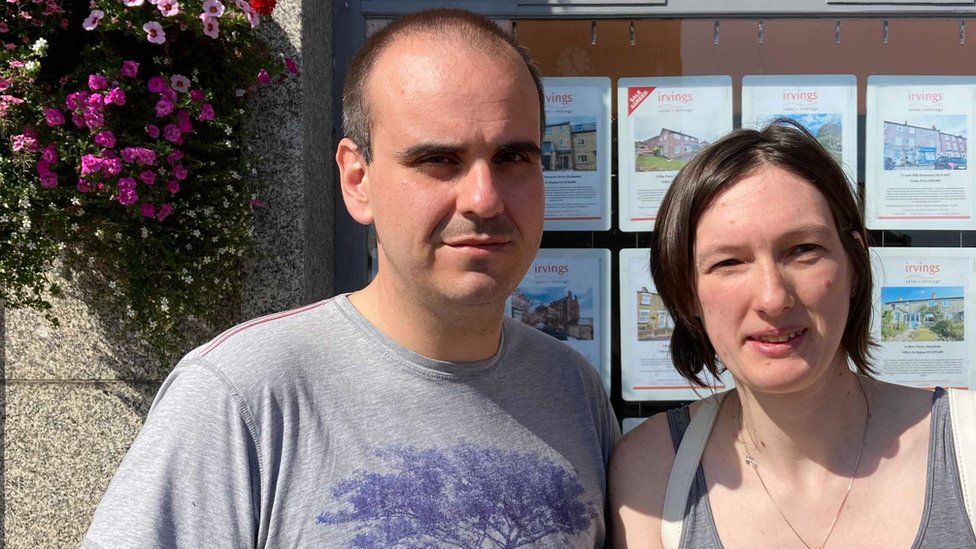 Property prices have risen by 29% in Richmondshire in the last year, according to the latest official figures from the Land Registry. That is faster growth than anywhere else in Britain (except Shetland and Orkney, where the sale of a single property can easily skew the data).
Large increases have also been recorded in other idyllic, rural areas of the UK. The Derbyshire Dales, North Norfolk, and the Cotswolds have all seen property values increase by more than 20% in a year.
All this has occurred during a pandemic, when the country has endured months of lockdowns and the loss of lives.
Covid has also led homeowners to reassess where and how they want to live.
The pandemic accelerated a shift towards remote working, and has meant big savings for some parts of society. If you add in to the picture government support through stamp duty holidays, as well as historically low mortgage rates, you have a rapid increase in the number of buyers.
In areas where the number of homes for sale fails to match that demand, prices have soared. The Royal Institution of Chartered Surveyors (RICS) says the average number of properties on estate agents' books is close to record lows.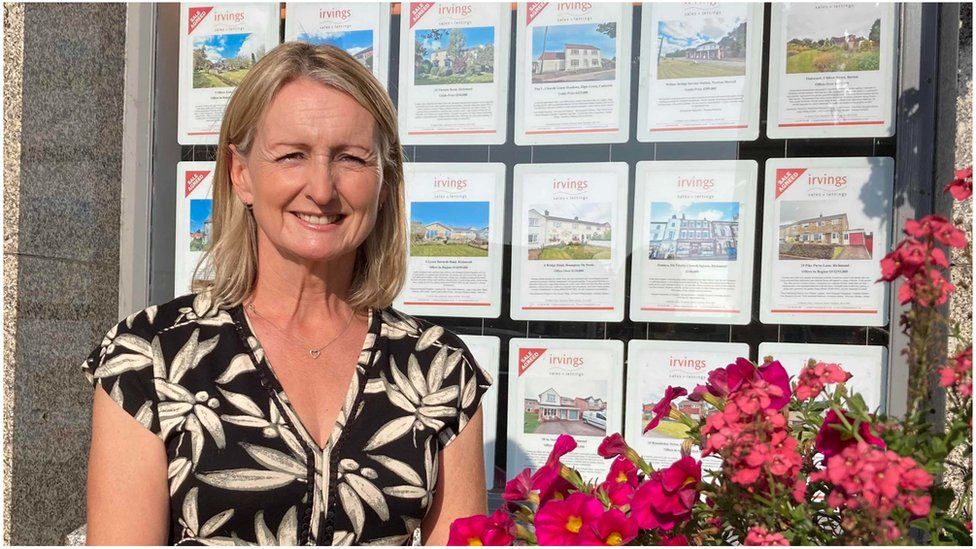 "Anything we listed [from last summer] flew out of the door. Richmondshire property has always been where we don't get too high on the highs and low on the lows. It was a massive change from what we had seen previously. This is unprecedented," says Margi Irving, a director at the family-run Irvings Property estate and lettings agents.
She has 32 homes available for sale now, whereas a year ago there were more than 100.
"We have definitely got a supply and demand issue. We have gone weeks, just like other agents, listing just one or two. People are reluctant to put their house on the market because they have nowhere to buy," she says.
Mostly, that trend has been in rural or coastal areas, rather than cities.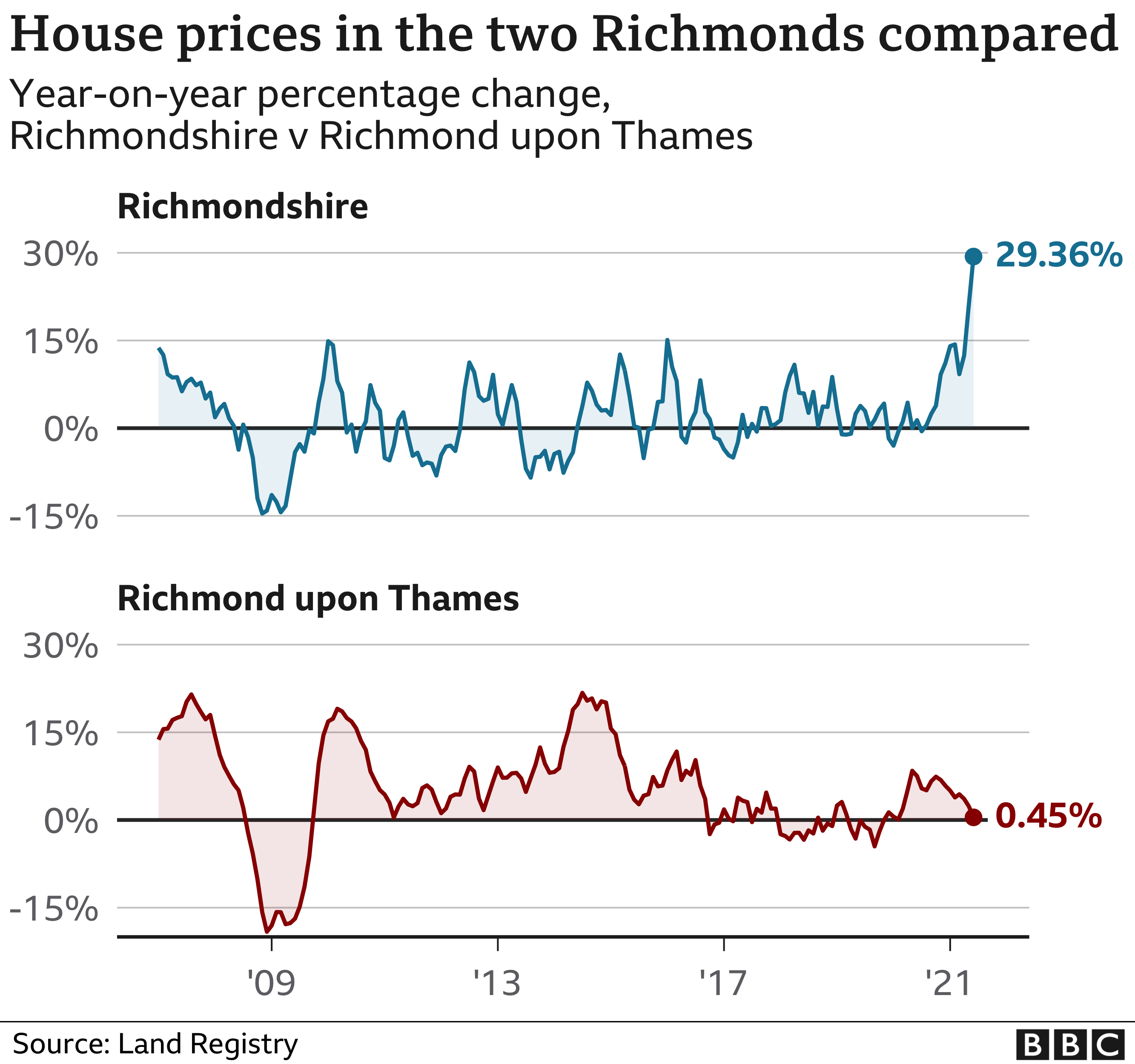 Residents of Richmond, North Yorkshire, will proudly tell you theirs is the original Richmond, founded by the Normans in 1071. This is also the constituency of the chancellor, Rishi Sunak.
There are 56 other Richmonds around the world, including the London borough that lies on the River Thames.
Many more homes are sold in London. The average house price of £700,000 in the Richmond down south is two-and-a-half times higher than in the Yorkshire district of much the same name. However, house prices in Richmond-upon-Thames have risen by less than 1%, in the last year compared with 29% in Richmondshire.
"We were Britain's best kept secret, evidently. Just recently people have realised you get really good value for money. It is a beautiful town. It has lovely villages surrounding it. The services and schools are very, very good," says Mrs Irving, in North Yorkshire.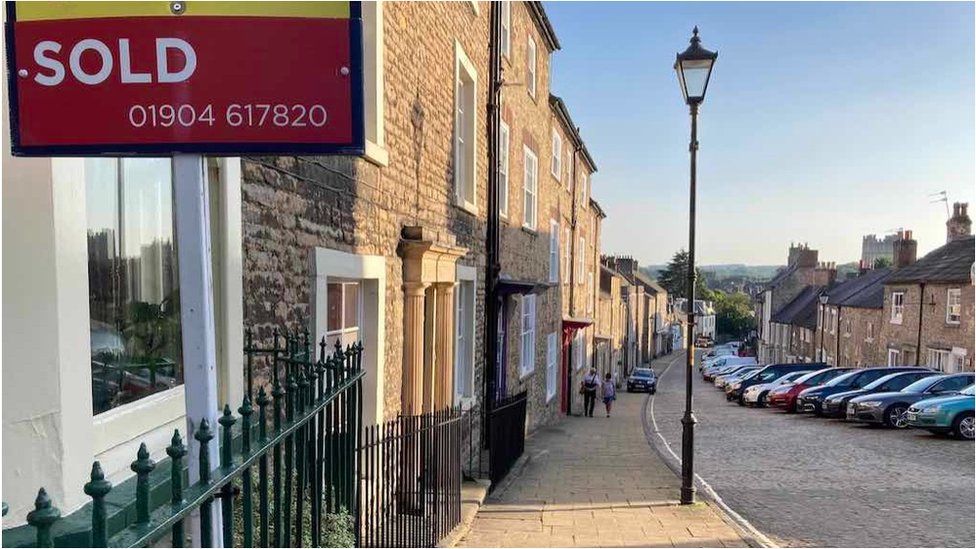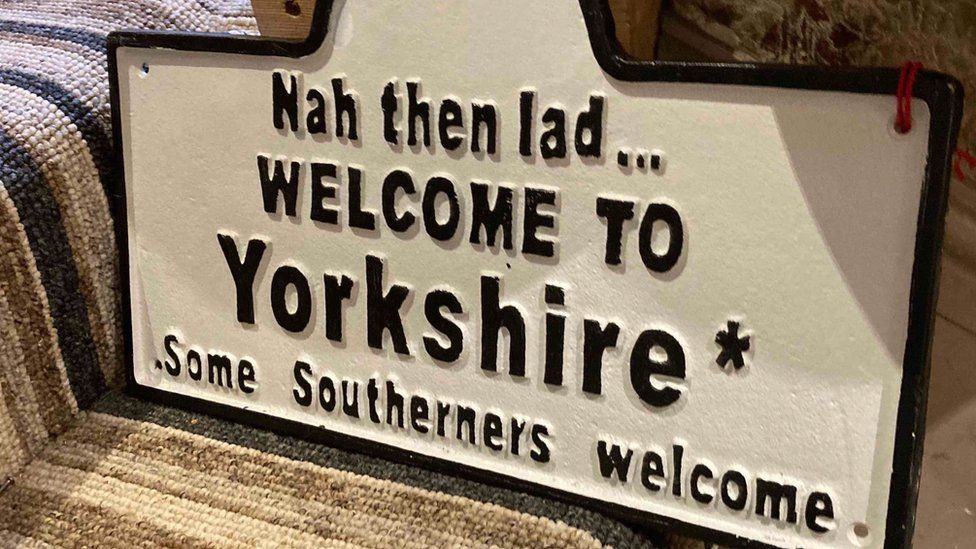 The danger is that soaring values could start to price out potential first-time buyers who were brought up in the area and want to stay.
Angie Dale is the independent leader of Richmondshire District Council, and the mother of Robert – a 20-year-old dad hoping to get his own place.
"I love him dearly, but he needs to leave home. He needs to make his own way in life but he needs to afford it, and pay [living costs] too," the 51-year-old says.
Reinforcing her point, she sits by a food bank serving people in the area who have been hit hard financially by the pandemic.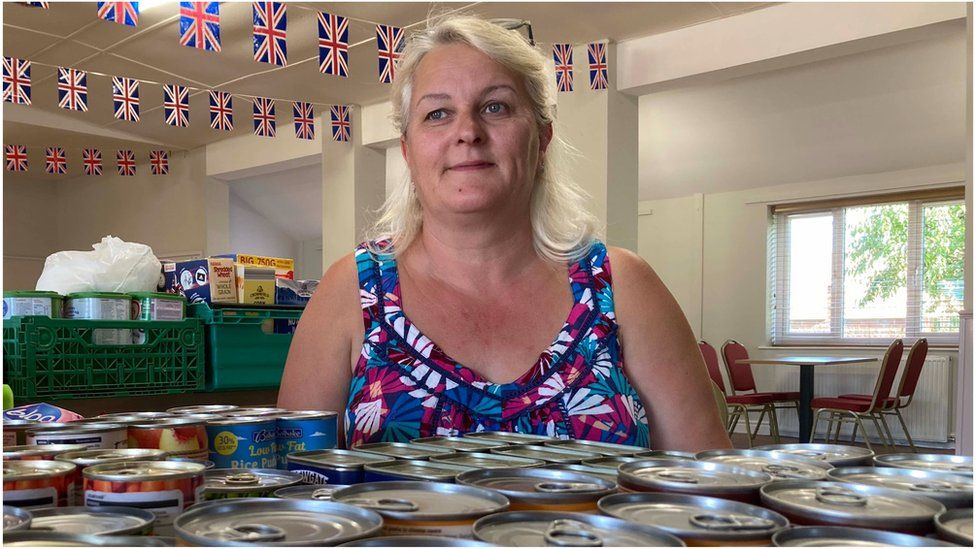 She says there remains an issue with second home owners snapping up properties, but she welcomed people moving to the area.
"Why wouldn't you want to come to Richmondshire? It is absolutely beautiful. You are welcome here so long as you are investing and supporting the local economy," she says.
The near future shows little sign of an end to interest among buyers and rising prices, according to commentators, despite stamp duty holidays being withdrawn.
"Any tax incentive is now all but gone unless you are a cash buyer, so the group of buyers in the market right now are motivated by other things, with low mortgage rates a key driver, along with a new group reviewing what their longer term working pattern means for where they could live," says Tim Bannister, director of property data at Rightmove.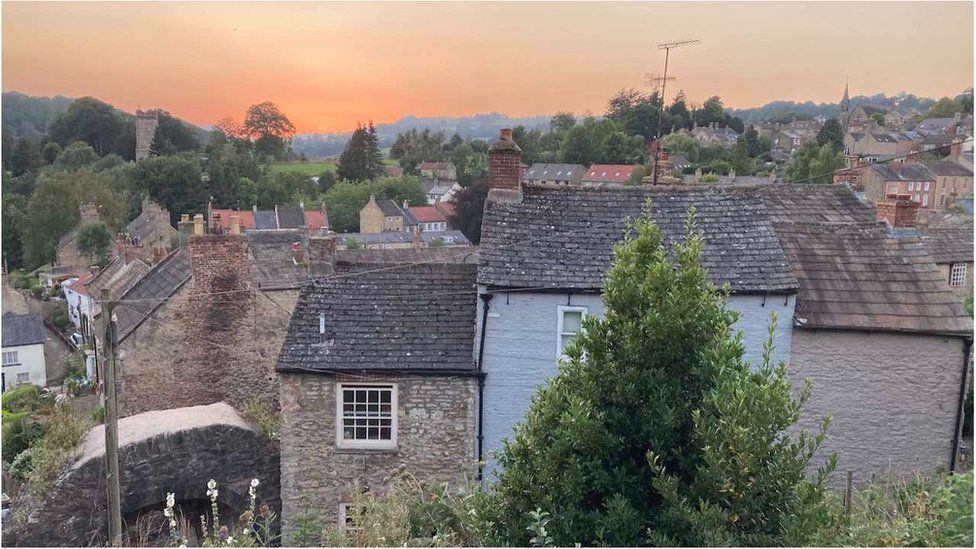 Estate agent Margi Irving says the local house price boom will inevitably come to an end.
"You never know with the housing market. It is so sensitive. It reacts to leaves on a train line at times. I think it will be steady. I don't think we will have the madness. It will level out," she says.
Yet, Angie Dale is clear that the peace and tranquillity of the Dales will only be mirrored in the property market if more homes are built, particularly for first-time buyers.
"With that you need to have the infrastructure – the roads and the dentists – to back that up. We welcome growth, but we need to get it right," she says.