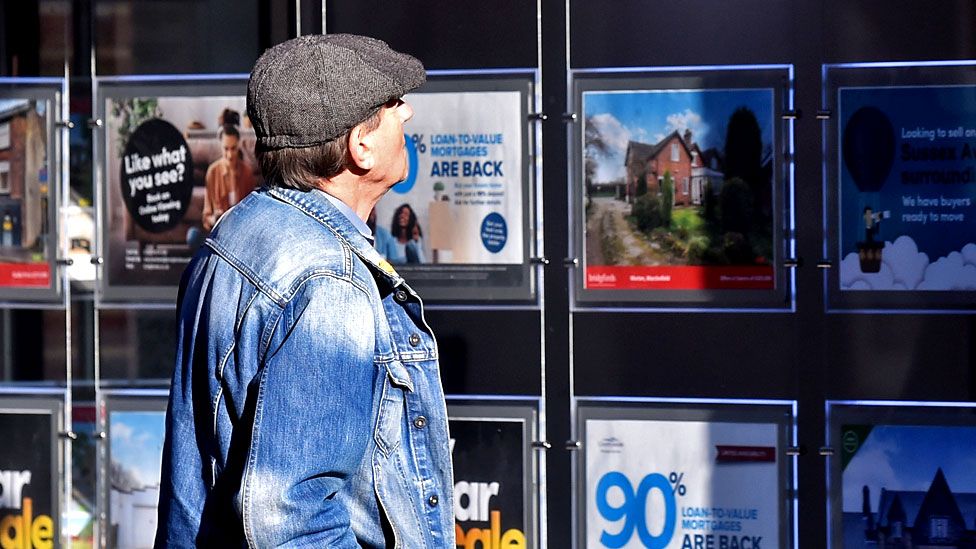 Average house prices in the UK hit a record £254,822 in December, according to lender Nationwide.
The typical house is now worth £23,902 more than it was in January, making it the strongest year for price rises since 2006.
But Nationwide predicted the market would slow next year because the stamp duty holiday, which ended in September, saw buyers bring purchases forward.
And it warned that slowdown could be made worse by the spread of Omicron.
"The Omicron variant could reinforce the slowdown if it leads to a weaker labour market," Nationwide's chief economist Robert Gardner said.
He said that even if the economy remains strong, higher interest rates were likely have a "cooling influence" on the housing market.
It suggests the lender may be expecting further increases to interest rates in the new year. Earlier this month, the Bank of England raised rates to 0.25% from their historic lows of 0.1% in a bid to tackle rising inflation.
Further increases in the cost of borrowing would mean fewer people are able to gain a foothold on the property ladder.
"House price growth has outpaced income growth by a significant margin over the past 18 months and, as a result, housing affordability is already less favourable than before the pandemic struck," Mr Gardner said.
Wales saw the highest growth with prices increasing 15.8% compared to the same time last year. Meanwhile, price increases in London slowed compared to last year, climbing just 4.2%.
Speaking to the BBC's Today programme, Andrew Harvey, a senior economist at Nationwide, said the pandemic had caused a change in the behaviour of buyers who had been looking to leave large cities in favour or suburban and rural areas.
"I think London probably has suffered as a result of that," he said.
How did average prices change across the UK?
Wales: Up 15.8% to £196,759
Northern Ireland: Up 12.1% to £167,479
South West: Up 11.5% to £294,845
Outer South East: Up 11.3% to £329,869
North West: Up 11.2% to £196,806
Yorkshire and Humberside: Up 10.8% to £190,855
East Anglia: Up 10.4% to £268,146
East Midlands: Up 10.4% to £221,813
Scotland: Up 10.1% to £172,605
West Midlands: Up 9.4% to £227,031
Outer metropolitan area of London: Up 8.8% to £410,992
North: Up 7.7% to £148,105
London: Up 4.2% to £507,230
Mr Gardner said it was the first time since 1973, when Nationwide began publishing house price data, that the largest price rises had been seen in Wales.
"Price growth remained elevated in Northern Ireland at 12.1%, the strongest end to the year for the region since 2007," he said.
"Annual house price growth in Scotland was 10.1%, in line with the wider UK."