UK house prices will fall for the next two years before starting to rise again, according to the government's official forecaster.
A drop of 9% is expected between now and autumn 2024, the Office for Budget Responsibility (OBR) has said.
That will be a relief to some potential first-time buyers following a period of sharp rises in property prices.
But a squeeze on their own finances will limit their ability to save for a deposit.
The cost of a mortgage is also likely to stay much higher than homeowners have become accustomed to during the last decade. A typical two- or five-year fixed-rate deal currently has an interest rate of just over 6%.
Higher mortgage rates and the wider impact of a slowdown in the economy, such as rising unemployment, will unite to push down house prices, the OBR said.
It forecast that there will still be an average increase in property prices this year of 10.7% despite the recent slowdown.
That will be followed by two years of falls, with house prices down by 1.2% next year, and 5.7% in 2024.
Then the OBR suggests that property prices will start to rise again at a rate slightly faster than people's incomes – up by 1.2% in 2025, 3% in 2026 and 3.5% in 2027.
However, it pointed out there was "significant uncertainty over this forecast" given the sensitivity of house prices to mortgage rates and general borrowing costs.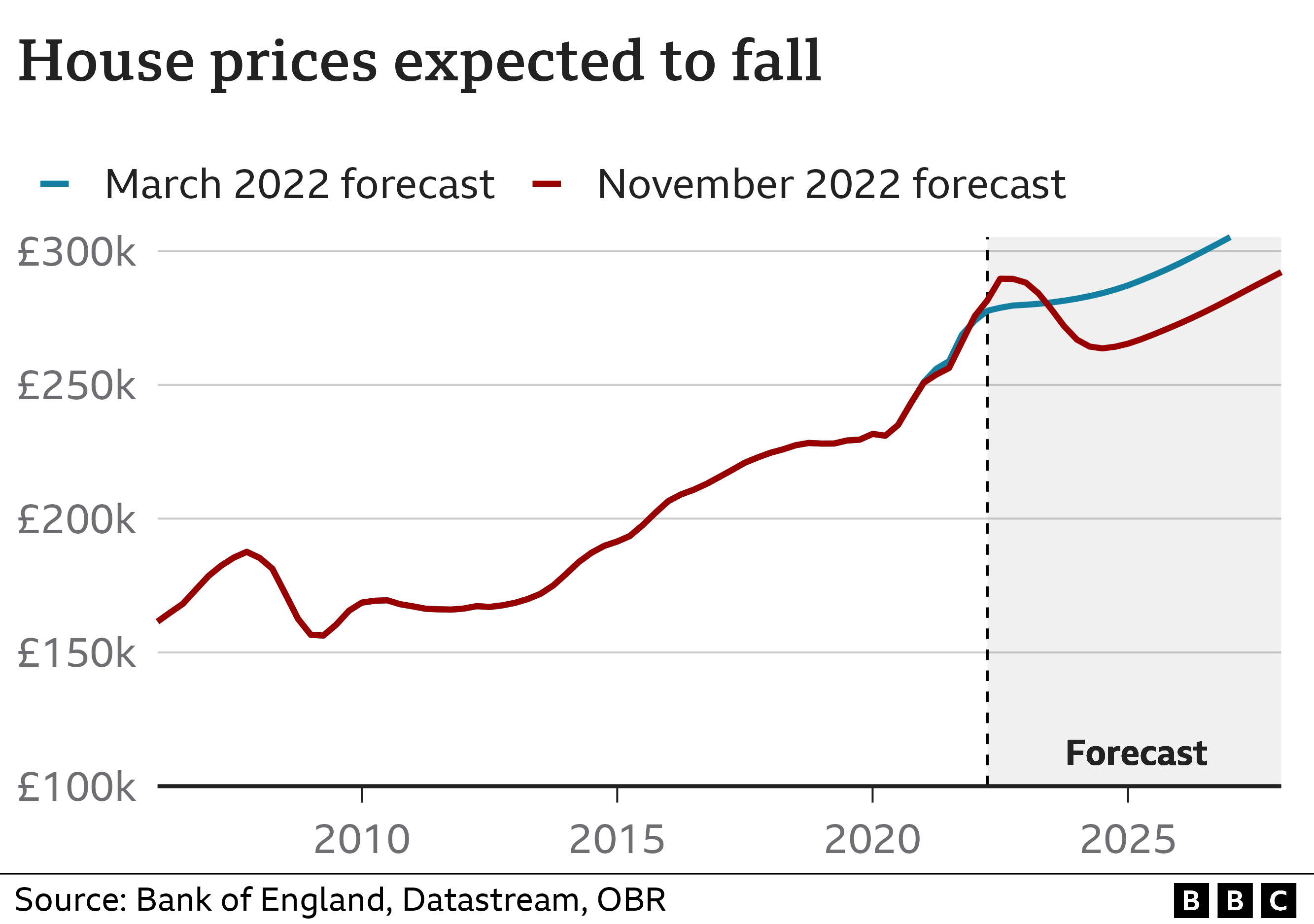 The UK housing market, in reality, is a series of local markets, so house price falls could have more impact in some areas than others.
For example, despite the rebound after the 2008 financial crisis, house prices in the north-east of England only returned to their pre-crash levels at the end of 2020. Meanwhile, in Northern Ireland, house prices still remain below their pre-crisis peak.
Squeezed incomes mean that first-time buyers may still be asking for the help of parents and grandparents to get enough for a deposit, even if house prices fall.
Richard Fearon, chief executive of Leeds Building Society, said: "Our research shows that 81% of aspiring first-time buyers say that the cost of living crisis has made it harder for them to save for a deposit and almost half of them now doubt they will ever get onto the housing ladder."
He said a lack of homes was still the key long-term issue in the market.
A new deadline will see a reversal of the cuts in stamp duty at the end of March 2025. This may also affect potential buyers' long-term plans in London and the south-east of England, where the vast majority of stamp duty is paid.
Other measures announced in the Autumn Statement could have a notable impact for other parts of the housing sector.
Tenants renting social housing in England will still face higher rental bills – but not as high as might have been the case.
Chancellor Jeremy Hunt said the government would cap the increase in social rents in England at a maximum of 7% in 2023-24, rather than the 11% potential rise under previous rules. This cap does not apply to shared ownership rents or private sector rents.
Meanwhile, buy-to-let landlords – who may include so-called accidental landlords who find themselves with two homes after moving in together – face a higher capital gains tax bill if they sell up.
The annual allowance before capital gains tax is paid will be reduced from £12,300 to £6,000 in April and then to £3,000 a year later. The tax is paid when you sell an asset, such as company shares, a second home, or a buy-to-let property.