UK house prices fell by 1.1% in the year to February, as higher mortgage rates and living costs made homes less affordable.
Aside from a small drop at the start of the pandemic, this was the first annual fall in property values since November 2012, according to Nationwide.
Prices slipped on a monthly basis too, falling by 0.5% from January.
The building society said it would be "hard for the market to regain much momentum in the near term".
"Economic headwinds look set to remain relatively strong, with the labour market widely expected to weaken as the economy shrinks in the quarters ahead," said its chief economist Robert Gardner.
He added that mortgage rates remained "well above" the lows seen in 2021.
The price of an average property is now £257,406, down from £258,297 in January and 3.7% lower than its peak in August 2022.
House prices have fallen on a monthly basis for six months in a row, according to Nationwide, as higher borrowing costs have squeezed buyers.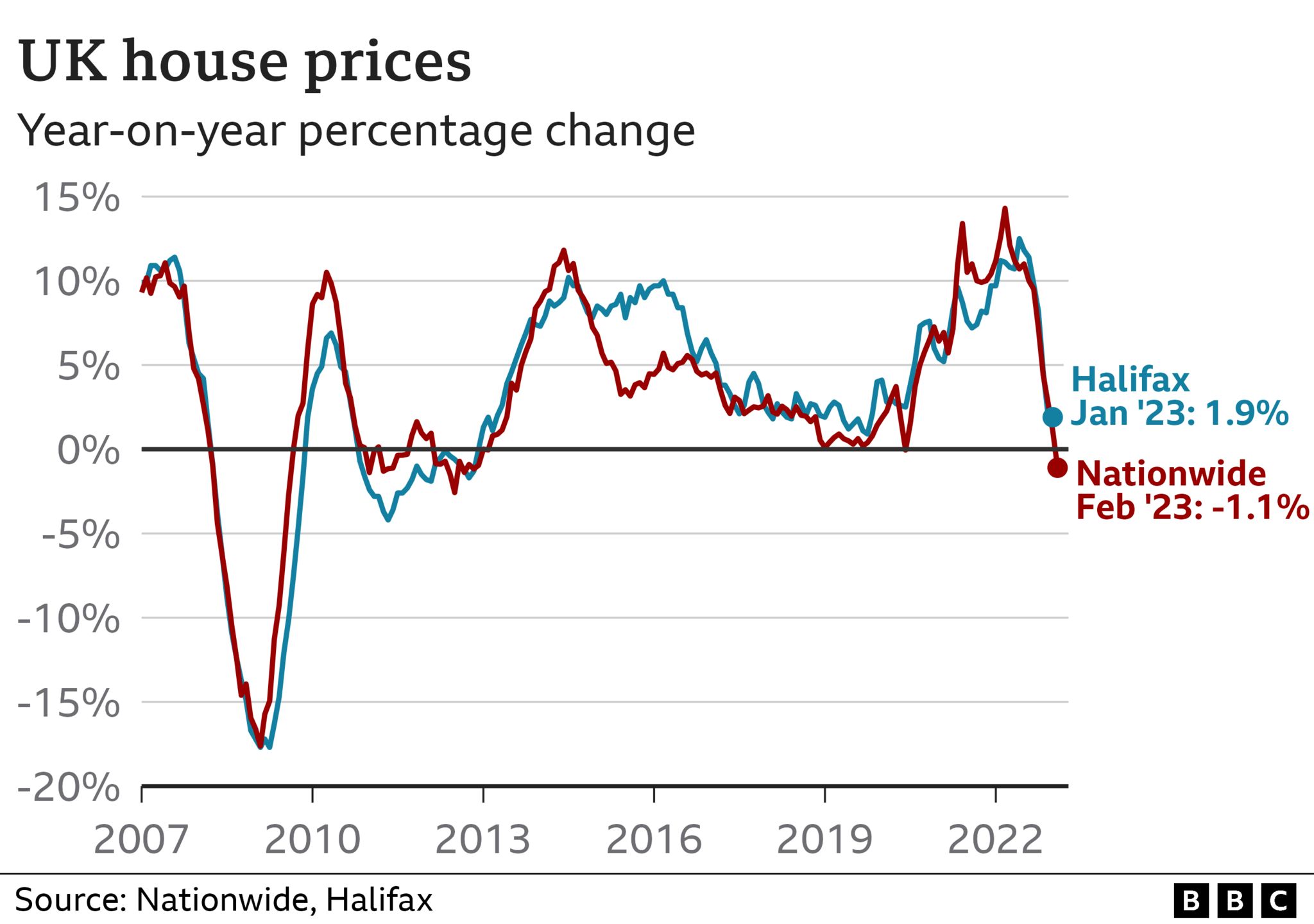 Mortgage rates were already rising last year as the Bank of England put up interest rates to tackle the soaring cost of living.
But mortgage rates after Liz Truss's mini-Budget in September threw financial markets into turmoil. They have fallen back since then but remain far above levels closer to 1% seen in late 2021.
UK banks approved the lowest number of mortgages in January since 2009, excluding a slump at the start of the pandemic, according to Bank of England figures published on Wednesday.
A total of 39,637 mortgages for house purchase were approved during the month, down from 40,540 in December.
Looking to the future, Mr Gardner predicted property prices would fall by 5-6% from their peak in August 2022 to the trough which "feels like a relatively soft landing given the pressure on household finances".
However, he added that forecast was dependent on the labour market not weakening more than people expect.
Pantheon Macroeconomics said people were holding off buying new homes because they expected house prices to drop further. The forecaster reckons house prices will fall over the coming months to about 8% below their peak.
It said mortgage rates appeared to have "hit a floor for now", and households' real disposable incomes would be "squeezed again" in April by the withdrawal of energy bill subsidies by the government.
It added it had "tentatively pencilled in a 5% rise in house prices for 2024", as it believes the Bank of England will start to reduce interest rates next year.
Capital Economics said the further fall in house prices in February would "keep optimism based on reports that demand has recovered in check".
"Indeed, even if buyer volumes have recovered, the amount they can spend on a new home has been reduced by higher mortgage rates."