House prices have fallen by 1% compared with a year ago – the first such drop since 2012, according to the UK's largest mortgage lender.
The Halifax, part of Lloyds Banking Group, said typical house prices in May were down £3,000 on a year ago, and £7,500 lower than their peak in August.
The lender, which itself is raising its mortgage rates, said higher borrowing costs were hitting "confidence".
Some mortgage rates have risen sharply in recent weeks.
Lenders are predicting further rises in the Bank of England's base rate, owing to general price rises – as measured by inflation – staying higher for longer than previously anticipated.
"This will inevitably impact confidence in the housing market as both buyers and sellers adjust their expectations," said Kim Kinnaird, director of Halifax Mortgages, who added that housing demand was cooling.
"Therefore further downward pressure on house prices is still expected."
The Halifax said that the average UK home now cost £286,532. It said that prices had edged down slightly compared with a month ago. A buoyant market a year ago was a major reason for the year-on-year fall, it said.
Rival lender the Nationwide has recorded a deeper fall in house prices, according to its data. It said a week ago that property values were down in the year to May by 3.4%, the biggest decline for 14 years.
Although that may be welcomed by first-time buyers, higher than expected mortgage rates are squeezing their purchasing power.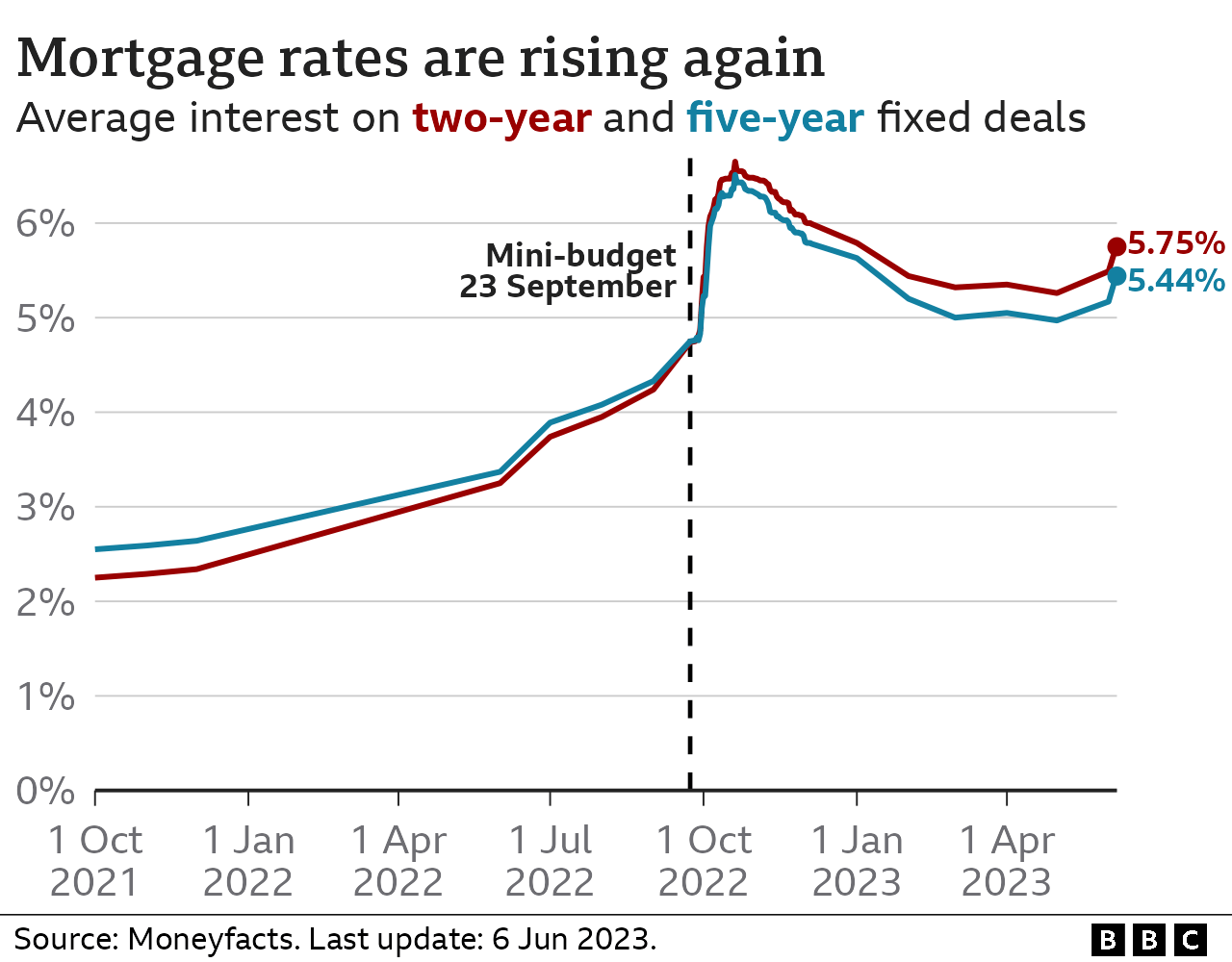 According to data from Moneyfacts, given to 5 Live's Wake up to Money, the average two-year fixed rate on a £200,000 mortgage over a 25-year termis now 5.64%.
That compares with 5.34% before the latest inflation data.
It comes as new data from UK Finance shows people increasingly taking out mortgages over longer terms, with a record one in five first-time buyers opting for mortgages of more than 35 years.
UK Finance suggested customers might be choosing this option "in order to lower monthly payments and, thereby, improve their affordability calculations".