House prices have fallen at their fastest rate in 12 years, according to the Halifax, while mortgage rates continue to rise.
The High Street lender said the annual fall of 2.6% was equal to around £7,500 being wiped off the average UK house price, the biggest drop since 2011.
Prices for June fell for the third month in a row, dipping 0.1%, it said, indicative of a cooling market.
The typical UK property now costs £285,932.
The figures from the Halifax come as financial firm Moneyfacts released data on Friday showing the average two-year fixed rate mortgage had climbed to 6.54%, a slight increase on the previous day.
Halifax's director of mortgages Kim Kinnaird said the "resulting squeeze on affordability will inevitably act as a brake on demand" as buyers consider what they can realistically afford.
"How deep or persistent the downturn in house prices will be remains hard to predict," she said.
The lender said the drop had to be seen in the context of a market which had seen little movement in prices recently.
"This rate of decline largely reflects the impact of historically high house prices last summer – annual growth peaked at 12.5% in June 2022 – supported by the temporary Stamp Duty cut," Ms Kinnaird said.
But the volume of mortgage applications held up well throughout June, particularly from first-time buyers.
"Consumer price inflation is likely to come down in the near term as energy and food prices look set to reverse their steep rises, but core inflation (which strips out energy and food prices) is clearly proving stickier than originally expected.
"With markets now forecasting a peak in Bank Rate of over 6%, the likelihood is that mortgage rates will remain higher for longer, and the squeeze on household finances will continue to put downward pressure on house prices over the coming year," Ms Kinnaird added.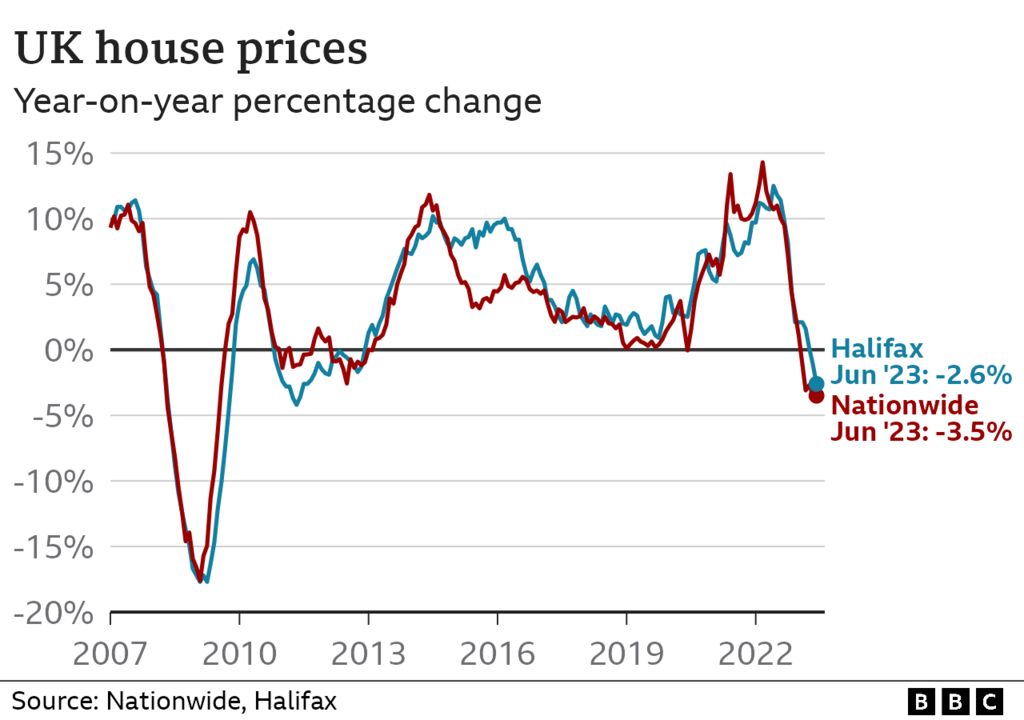 House prices a year ago were rising fast, partly because there were high levels of demand and relatively few homes on the market.
Now, activity is comparatively stagnant. There were 74,360 transactions in May, according to the latest data from HM Revenue and Custsoms. That marks a 25% drop on the same month a year earlier.
Adam Smith, founder of Alfa Mortgages predicted the strain being put on people's finances would "almost certainly send prices lower" during the months ahead.
"However, the housing market could still experience a correction rather than a crash during the next 12 months due to the lack of supply and strength of the jobs market," he said.
Last month the Nationwide said UK house prices had fallen at their fastest annual pace for nearly 14 years.
The building society said prices in the year to May dropped by 3.4%, the biggest decline since July 2009.
Many mortgage-holders acted quickly when they saw rates rising. That has led to fewer than expected sitting on a standard variable rate – affecting the finances of some lenders. OneSavings Bank said it would take a £180m hit as a result, which led to a 20% drop in its shares on Friday.