UK house prices dropped at their fastest annual rate for 14 years in July, according to Nationwide.
The building society said prices had dropped by 3.8% – the biggest yearly decline since July 2009.
Nationwide said mortgage interest rates remained high, making affordability a challenge for house-buyers.
Mortgage costs hit the highest level for 15 years in July as lenders faced uncertainty over the interest rate set by the Bank of England.
The average price of a home in the UK is £260,828, said Nationwide which is about £13,000 below a peak in August last year.
Many first-time buyers should welcome a drop in house prices, which have climbed in recent years, including during the Covid pandemic.
But Nationwide said that despite July's fall, higher mortgage rates meant housing affordability remained stretched.
Nationwide's chief economist, Robert Gardner, said a first-time buyer on an average wage, who had saved a 20% deposit, would see mortgage payments account for 43% of their take-home pay. That is based on a mortgage at a 6% rate.
Just last year, these new homeowners would be spending just over a third of their take-home wage on mortgage payments.
New figures on Tuesday showed mortgage rates continue to edge higher. A typical two-year fixed mortgage rate is now 6.85%, up from 6.81% the previous day, according to financial information service Moneyfacts.
A five-year fixed rate mortgage is 6.37%, up by 0.3% on Monday.
Mr Gardner said the housing market had been subdued in recent months as people struggled to buy. In June, there were 86,000 completed housing transactions, down from more than 100,000 last year.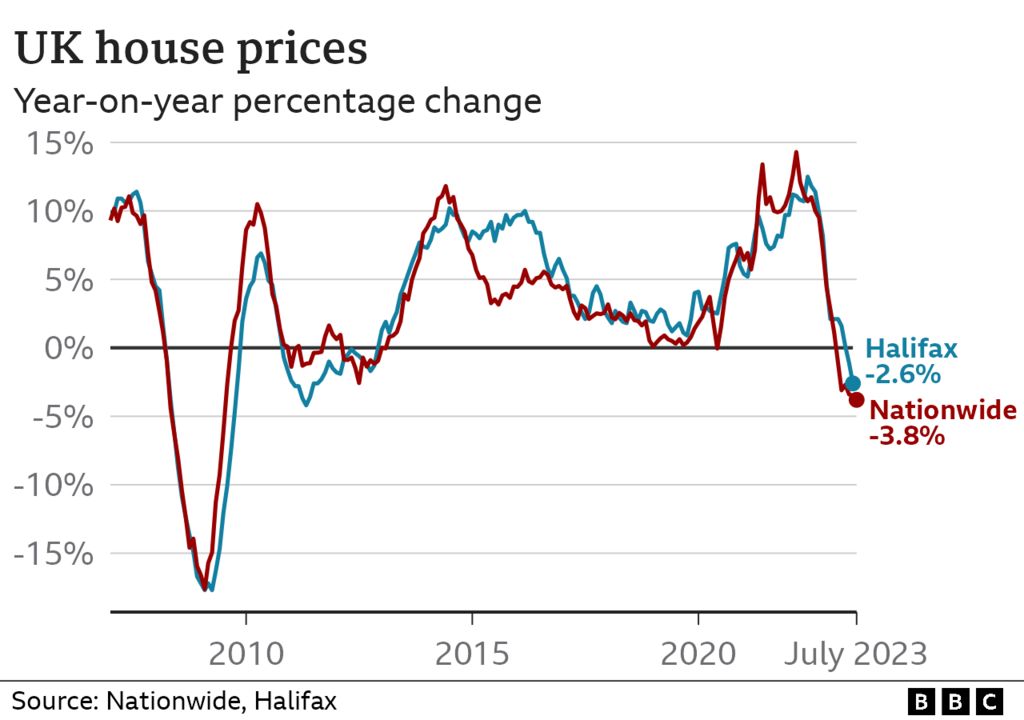 Mortgage rates have been rising following a succession of interest rate rises by the Bank of England to tackle stubbornly high inflation.
The Bank is expected to raise interest rates again on Thursday from 5% to at least 5.25%. It would be the 14th increase in borrowing costs since December 2021.
The UK inflation rate slowed to 7.9% in June but food prices remain high.
Mark Harris, chief executive of mortgage broker SPF Private Clients, said the expected interest rates rise meant "we are not out of the woods just yet when it comes to rising mortgage costs".
"However, a few lenders, including HSBC, Barclays and Nationwide, have reduced their fixed-rate mortgage pricing on the back of better-than-expected inflation news."
Gabriella Dickens, senior UK economist at Pantheon Macroeconomics, said: "We think that house prices will have to fall by about 8% from their peak before demand and supply come back into balance."