House prices fell at their fastest annual rate in 14 years in August, according to the Halifax, as rising mortgage rates affected the market.
The lender said that property values had dropped by 4.6% in the year to the end of August, representing a fall of £14,000 in the average price.
However, it pointed out that this was compared to record high property prices last summer.
The Halifax is predicting further falls through the rest of the year.
It said prices had dropped by 1.9% between July and August alone.
"We may now be seeing a greater impact from higher mortgage costs flowing through to house prices," said Kim Kinnaird, director of mortgages at the Halifax.
"The market will continue to rebalance until it finds an equilibrium where buyers are comfortable with mortgage costs in a higher range than seen over the previous 15 years."
Since December 2021, the Bank of England has lifted interest rates 14 times in row in a bid to clamp down on rising consumer prices in the UK. The bank's base rate now stands at 5.25%.
However, the Bank's governor, Andrew Bailey, said on Wednesday that interest rates were now "much nearer" their peak than before, although financial markets still expect a further increase to 5.5% this month and another rise thereafter.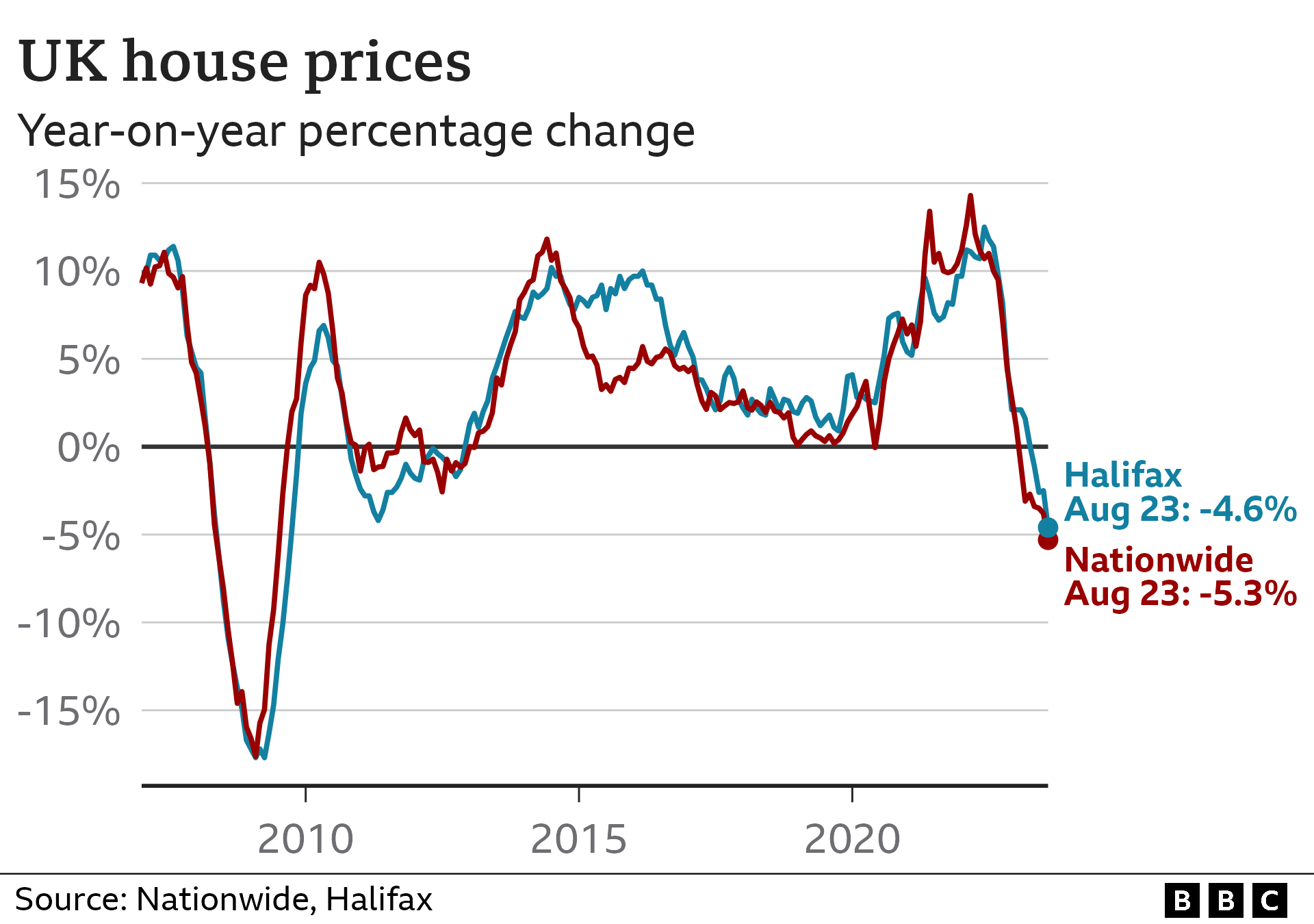 The average home now costs £279,560, according to the Halifax, which is part of Lloyds Banking Group, the UK's biggest mortgage lender.
Its figures only take into account buyers with mortgages and do not include those who purchase homes with cash or buy-to-let deals. According to the latest available official data, cash buyers account for over a third of housing sales.
Last week, rival lender the Nationwide said that house prices had fallen by 5.3% in the year to August, which it also described as the biggest annual decline since 2009.
Mortgage rates are no longer rising, as they were earlier in the summer, but remain much higher than many borrowers will be accustomed to. That has led some to delay house purchases.
The average rate on a two-year fixed rate mortgage is 6.67%, according to the financial information service Moneyfacts. The typical five-year deal has a rate of 6.16%.
First-time buyers, although welcoming a fall in prices, also face relatively high repayment costs, alongside other cost-of-living pressures such as higher prices in the shops. On the flipside, wage growth has helped affordability.
Despite the fall in property values, the Halifax said that prices were only back to the level seen at the start of last year, and still £40,000 higher than before the pandemic.
The lender said prices had fallen in every part of the UK, with the biggest drop in London, although the capital remains the most expensive place to buy in the UK.
Nicky Stevenson, managing director at estate agent group Fine & Country, said: "The number of properties available for sale remains constrained compared to 2019, which was a fairly typical year for the housing market. This is playing a part in preventing bigger falls in prices even though affordability is tight."