The average rate on a five-year fixed mortgage has fallen below 6% for the first time since early July, new figures show.
On Thursday, the typical rate dropped to 5.99%, according to the financial information service Moneyfacts.
Lenders have been given some confidence to cut rates after the end of a run of 14 consecutive interest rate increases by the Bank of England.
The average two-year deal has a rate of 6.5%.
Around three-quarters of mortgage customers hold fixed-rate deals. Banking trade body UK Finance says there are about 800,000 of these deals ending in the second half of 2023, and about 1.6 million expiring next year.
These borrowers were given some hope of rates turning the corner when the Bank of England's Monetary Policy Committee decided to hold the benchmark interest rate at 5.25% last Thursday. The move was a surprise to some analysts who were expecting another rise.
There have been incremental drops in the average rates since then, with some major lenders – such as Nationwide Building Society, HSBC and NatWest – cutting the cost of a number of deals.
Despite falling below 6%, the average five-year rate is still only back to the level seen less than three months ago. On 3 July, the five-year rate was 5.97%, but rising.
Borrowers still face the likelihood of having to pay hundreds of pounds more each month compared to their expiring deal.
That has caused concern among debt charities, and an expectation that house prices could drop further.
Brokers say there is now a much stronger chance of some mortgage-holders being able to seal a rate of less than 5%.
But they say there is no chance of rates plunging to the kind of ultra-low levels that benefitted homeowners in the decade or so before late 2021.
That is because the economic situation is very different and the Bank of England's governor, Andrew Bailey, has played down the possibility of the wider Bank rate being cut soon.
"I can tell you that we have not had any discussion… about reducing rates, because that would be very, very premature. Our job is to get inflation down," he said last week.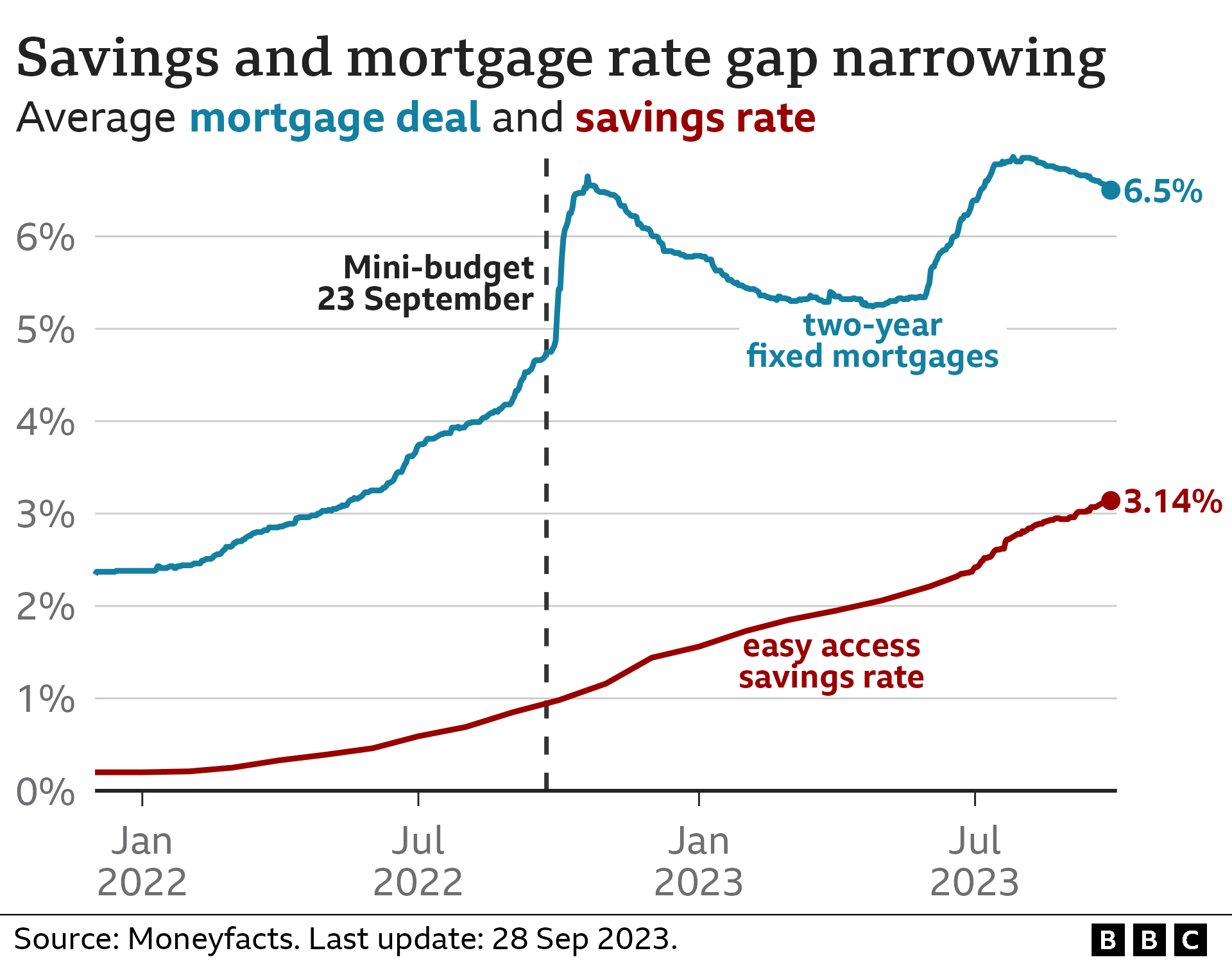 The flipside of high borrowing costs is better returns for savers.
Moneyfacts said the average interest rate on an easy-access account was now 3.14%.
For those willing and able to lock their savings away, the typical return on a one-year fixed savings deal was now 5.44%, it said.
Savings experts said that best rates on offer now were higher than anything seen for 15 years, and people should shop around to get a better deal if their money has been untouched for some time.
In the wider housing market, relatively high mortgage rates – which also have an impact on many landlords – have been a factor in rents getting sharply more expensive in the last year.
House prices have dipped, according to various surveys.
Some sellers now feel they are being forced to cut their asking prices in order to secure a sale, according to the property portal Zoopla.
The average discount on an asking price for a newly agreed sale was now 4.2%, or £12,125, it said. In built-up London and the South East of England, the reductions were typically 4.8%, compared with 2.8% in the rest of the UK.
Richard Donnell, executive director at Zoopla, said: "The housing market continues to adjust to a higher mortgage rate environment. Buyers continue to remain cautious and many are waiting for better value for money and improved affordability from lower house prices or further falls in mortgage rates before returning to the market."